The registration fee for the 2013 National LCMS Youth Gathering — July 1-5 in San Antonio — will be $295 per registrant.
A 12-member Gathering executive team set the fee at a July 17-20 meeting in San Antonio. That team consists of professional church workers and laypeople who se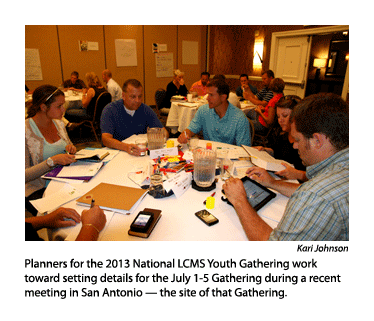 rve as advisers for the Gathering; staff members of LCMS Youth Ministry (which sponsors the national LCMS Gatherings); and the Rev. John Barton "Bart" Day, executive director of the Synod's new Office of National Mission (Life Together), which includes Youth Ministry.
The registration fee allows participation in all Gathering program events and components. It covers Gathering participants' program items (a custom Gathering Bible, backpack and post-Gathering DVD), secondary insurance for all participants, all Gathering program costs and Youth Ministry's administrative costs. Gathering participants are responsible for their travel, hotel and meal costs.
The executive team also affirmed the age requirement for youth at the Gathering — intended for those 14-19. This includes youth entering their freshman year of high school at the time of the Gathering and those who are 2013 high-school graduates. As for previous national Gatherings, congregations will organize their Gathering participants in "family groups" based on the makeup of their individual youth ministry organizations.
In addition, the executive team discussed the Gathering youth-to-adult ratio. Basically, the team adjusted that ratio to allow congregations flexibility in determining the number of family group adult leaders selected to attend the Gathering with their young people.
For specific details about the ratio and age requirements, visit the Gathering website, www.lcmsgathering.com, which serves as the main source for information about the 2013 event.
The 2013 National LCMS Youth Gathering will be the third one in San Antonio and the 12th since the Synod's first national Gathering in 1980. Early this year, planners set the 2013 Gathering theme, "live love(d)," based on 1 John 4:9. San Antonio's Henry B. Gonzalez Convention Center and the Alamodome will be the primary venues for 2013 Gathering program activities.
Posted Aug. 11, 2011