Under the theme "Adopted in Christ," Lutherans For Life (LFL) will hold its 2011 national conference Aug. 5-6 at the Sheraton Grand DFW Hotel in Dallas.
Registration opens March 3 online at the LFL website, www.lutheransforlife.org, where other details about the 2011 conference are posted. The conference is designed to provide informatio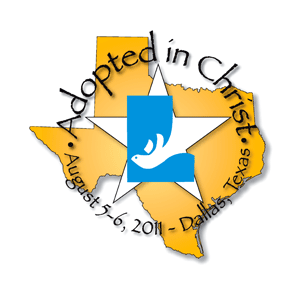 n on the positive aspects of adoption as well as what it means to be adopted as a child of God.
Pre-conference events on Friday, Aug. 5, include an "Adoption Connection" luncheon for anyone with adoption experience, either as a parent or child. The luncheon is free, but registration is required.
LFL's Christian Estate Planning Counselor Jim Schroeder will later give a presentation on estate planning from a Christian viewpoint.
Following opening worship at 5 p.m., the keynote speaker at Friday evening's banquet will be Dr. Russell Moore, author of Adopted for Life: The Priority of Adoption for Christian Families and Churches.
Scheduled plenary speakers are Dr. Kurt Senske, chief executive officer of Lutheran Social Services of the South; Dr. James Lamb, LFL executive director; Janette Clausen, director of Pregnancy Counseling and Adoptions with Lutheran Family Service of Iowa; Col. John Eidsmoe, professor of law at the Oak Brook College of Law; and Lowell Highby, director of communications for LFL and an adoptive father.
Workshop topics will cover embryo adoption, foreign adoption and foster care. A panel discussion with a birth mother, adoptive parent and adopted child also is scheduled.
Special events include a "work day" on Saturday, Aug. 6, at the Real Choices Pregnancy Center in Grapevine, Texas, and a showing of the 2006 movie "Bella," a story about adoption.
To help fund the national conference, participants may sponsor a "witness" message in the conference book. More information is available on the LFL website.
Those registering before April 15 will receive discounted fees, with an individual registration for the entire conference set at $125 ($100 for students). Registrations also are available for partial attendance. A rate of $89 per room per day is available for conference attendees who make reservations with the Sheraton Grand (800-325-3535) by July 20, and who mention they will be attending the conference.
Lutherans For Life's mission is stated as "Equipping Lutherans to be Gospel-motivated voices for Life." A statement on its website describes LFL in the following way: "As a grassroots organization which desires to help others live out their faith according to God's will, Lutherans For Life seeks to share Jesus Christ through teaching, caring and serving."
With national offices in Nevada, Iowa, LFL has 12 state federations, 138 local chapters, 158 Life Ministry Coordinators and 51 Life Advocates in the United States.
Posted March 2, 2011