LCMS Life Ministries and Lutherans For Life (LFL) both are offering resources designed to help congregations observe "Life Sunday" on Jan. 22, 2012, the 39th anniversary date of the U.S. Supreme Court's Jan. 22,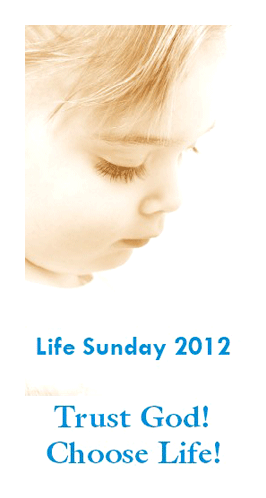 1973, decision that legalized abortion. The resources also may be used on any alternate date.
Life Ministries, a program area of the LCMS Office of International Mission, is providing free online resources including bulletin inserts, sermons, prayers, psalms and hymn suggestions, and study resources. To download the resources, go to www.lcms.org/lifesunday.
LFL is offering new bulletin inserts, fliers, a Bible study, sermons and a children's message on the theme of "Trust God! Choose Life!" based on Deut. 30:19b: "Therefore choose life, that you and your offspring may live."
The items are available for free or nominal cost through Concordia Publishing House, www.cph.org, or by visiting www.lutheransforlife.org/store-life-sunday-2012/. For more information, call LFL at 888-364-LIFE (5433).
LFL is based in Nevada, Iowa.
Posted Nov. 23, 2011