Lutheran schools and their sponsoring congregations may order a variety of resources from LCMS School Ministry and Concordia Publishing House to promote National Lutheran Schools Week (NLSW), set for March 6-12.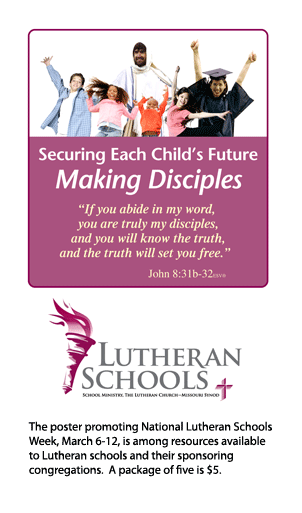 This year's NLSW theme, "Securing Each Child's Future — Making Disciples" is based on John 8:31b, 32, "If you abide in My Word, you are truly My disciples, and you will know the truth, and the truth will set you free."
"People often will ask, 'What makes a Lutheran school different?'" said Terry Schmidt, associate director of School Ministry. "We know that learning takes place just as it does in any school. But the opportunity to be shaped by the Gospel has a profound impact on the lives of students. The opportunity to stop and pray teaches that Jesus wants us to be talking with Him all the time. Students are invited to participate in projects that teach compassion and caring through their offerings and collections. They learn that they can make a difference in the lives of others — a Christ-like difference."
The ministry is offering a 68-page Worship and Resource Manual, available in downloadable PDF format, that includes worship resources, chapel services, devotionals and suggested activities for all educational levels.
Cost of the manual (product no. NLSW2011-E) is $20 and it may be ordered online (payment via credit card) or with a mail-in form (payment via check) through the DCS Online Store.
NLSW items available from CPH are:
posters, package of 5 ($5, item no. 251559WEB).
balloons, package of 25 ($5, item no. 251557WEB).
pencils, package of 25 ($5.50, item no. 251558WEB).
To order any of the above items, contact CPH at 800-325-3040 or visit www.cph.org/nlsw. Prices quoted do not include shipping charge.
For more information about National Lutheran Schools Week, call Kathy Fangmann in the LCMS School Ministry office at 800-248-1930, ext. 1285.
"We invite your prayers, on behalf of our schools, that they are indeed places where children can thrive, feel safe and learn," Schmidt added. "We pray that in each classroom the love of Jesus flows into every action, and that children and their families are nurtured in faith and grow as disciples of our Lord and Savior, Jesus."
Posted Jan. 6, 2011