The Kantorei of Concordia Theological Seminary, Fort Wayne, Ind., will visit cities in Indiana, Tennessee and Ohio on its Easter Choral Vespers Tour April 27-May 1.
The 16-member choir, composed of men studying to become pastors, was fou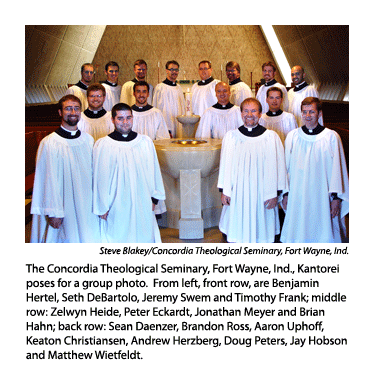 nded in 1978 by Kantor Rev. Richard C. Resch, who still serves as director.
Associate Kantor J. Kevin Hildebrand will be the organist and Dr. James G. Bushur, assistant professor of historical theology at the seminary, will serve as the preacher for each service.
Following is the schedule for the 2011 Easter Tour:
Wednesday, April 27, 6:30 p.m., Grace Lutheran Church, Columbus, Ind.
Thursday, April 28, 7 p.m., First Lutheran Church, Knoxville, Tenn.
Friday, April 29, 7 p.m., St. Paul Lutheran Church, Cincinnati, Ohio.
Saturday, April 30, 4 p.m., Advent Lutheran Church, Zionsville, Ind.
Sunday, May 1, 8:30 a.m., St. Paul's Lutheran Church, Fort Wayne, Ind.
Sunday, May 1, 4 p.m., Concordia Theological Seminary, Kramer Chapel, Fort Wayne.
For more information, click here.
Posted April 20, 2011