By Sarah Schafer
LCMS churches and congregation members saw damages as a string of severe spring storms wreaked havoc across the United States: a tornado in Iowa, another tornado in Wisconsin, flooding in North Dakota and wildfires in Texas.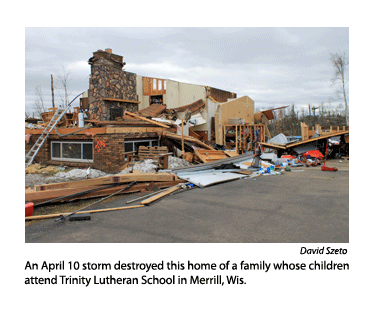 LCMS World Relief and Human Care's Director of Disaster Response, Rev. Glenn Merritt, says the Synod's disaster-response plan is at work in each disaster area. "In all four cases, the district disaster response coordinators [DDRCs] are out in the field making contacts, doing assessments and offering assistance," he said.
Iowa
"We heard the sound of the tornado, and were directly in its path," wrote Gary Thies, director of Mission Central in Mapleton, Iowa. "The Lord's protective hand came down and stopped the tornado just a little over a mile from our facilities and our home here at Mission Central."
While Mission Central was spared, about 100 homes were destroyed by the April 9 tornado, and up to 600 residents have been displaced, according to local authorities.
LCMS Iowa West District DDRC Ellie Menz worked alongside hundreds of other volunteers April 11 to remove fallen trees and clean up damaged properties. "What a miracle that no one was injured during the tornado at Mapleton," she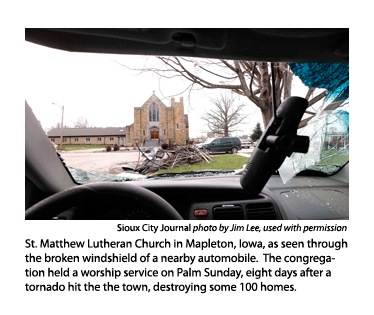 wrote.
St. Matthew Lutheran Church in Mapleton was damaged. Pieces of brick were blown off the building, there was roof damage and a tree fell on the education area of the church. Despite this, Menz says, "St. Matthew's Lutheran Church is a beacon of hope, standing firm in the area of town that was hit the hardest."
Menz and Iowa District West President Rev. Paul Sieveking met with St. Matthew elders and leaders April 12 to assess members' needs. The congregation's vacancy pastor, Dr. Klaus Raab, is offering physical and spiritual aid to affected people. Also offering counseling is Jamie Nutt of Lutheran Family Service of Iowa, an LCMS Recognized Service Organization.
Menz, Raab and others met April 11 with pastors and priests in the community to divide disaster-relief responsibilities. St. Matthew, for example, is the hub for phone calls concerning furniture and appliances that are needed.
"As always, LCMS World Relief and Human Care stands ready to assist," Merritt wrote.
Anyone interested in volunteering in Iowa may call Colleen at 712-880-1316.
Wisconsin
"When I drove in to work … there were trees, roofing, power lines, etc., everywhere. Many streets are closed," wrote Kathy Yahr, principal and preschool director at Trinity Lutheran School in Merrill, Wis., in an April 11 email to the North Wisconsin District.
The homes of one Trinity school board member and the daycare director were badly damaged in the April 10 tornado. Altogether, five members of Trinity and St. John Lutheran Church in Merrill lost their homes in the tornado, which ripped a two- to three-mile path along the north city limits, according to the Wisconsin State Division of Emergency Management. More than 65 homes were destroyed in the storm.
On April 11, Rev. David Szeto of St. John, Rev. R. Brian Stolarczyk of Trinity and the North Wisconsin District's DDRC, Lee Belmas, met with families whose homes were badly damaged.
"We talked with one LCMS family who shared this story: At the time of the tornado they were at worship at Trinity Lutheran. When the sirens sounded, everyone went downstairs to the basement for safety and the completion of the service.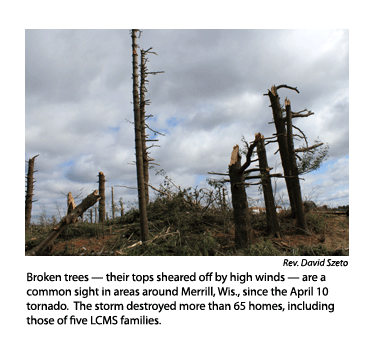 It was a Communion service, and the Communion hymn was 'A Mighty Fortress is Our God.' Little did the family know that after the service they would go home to find their earthly home destroyed," wrote Belmas. The family has two young children who attend Trinity Lutheran's school.
St. John Lutheran Church has been designated as the Red Cross housing and feeding station and can house up to 125 people, if needed. The North Wisconsin District is ready to send volunteers and resources and is working in partnership with the Red Cross, Salvation Army and other local agencies.
"Please keep the community of Merrill and surrounding communities in your prayers as they continue to recover from this disaster," wrote Belmas.
North Dakota
Spring flooding is an annual battle along the Red River in North Dakota, and LCMS North Dakota District DDRC Bill Sharpe says it's been an anxious two months as the Fargo community has prepared for floodwaters. Thankfully, he said, the dikes in Fargo have held strong.
However, "Not too many miles north of town [Fargo], they have water they've never seen before," said Sharpe. "Where it gets tough is in rural areas, where there are just fewer people to help out." A couple of LCMS families in north-central North Dakota have properties surrounded by water and have sought shelter with relatives.
The basement of St. John Lutheran Church in Crystal, N.D., was flooded when a power line, which runs the church's sump pump, went down. "The church basement didn't fill up, but it was a close run thing. It is 'a mess,'" wrote Rev. Bernie Seter, pastor of Trinity Lutheran Church, Drayton, N.D., and Zion English Lutheran Church, Grafton, N.D. Seter also is chairman of the LCMS Board for International Mission.
The district staff is in regular contact with pastors, congregations and members in flooded areas to determine if there are needs that the church can help address.
Sharpe calls the flooding an "unfolding story" this spring. The North Dakota communities wait to determine how bad the flooding might get north of Fargo and in the western part of the state. In Grafton, for example, a flood warning was issued over the weekend.
"It will be an interesting month," wrote Seter.
Texas
Between April 3-10, the Texas Forest Service (TFS) responded to 83 fires over 309,526 acres. On April 11 alone, TFS responded to eight new fires. Most of the state has issued a no-burn policy.
LCMS World Relief and Human Care's Merritt is in contact with the LCMS Texas District DDRC Rev. Steven Misch to monitor the rash of wildfires, storms and tornadoes in the state and to determine how the LCMS might assist the Texas District in responding to needs.
LCMS World Relief and Human Care currently has adequate funding to respond to fire and flood events until greater needs are identified. Because the tornado relief fund was depleted by last year's tornado relief efforts, gifts are needed to respond to the tornadoes in Iowa and Wisconsin. To make a donation for LCMS "Tornado Disaster Relief" efforts, click here.
To read a related story in the Sioux City Journal, "In wake of tornado, Mapleton's churches offer sanctuary and more," click here.
To watch a related video, click here.
Sarah Schafer is a freelance writer for LCMS World Relief and Human Care.
This story was produced by LCMS World Relief and Human Care.
Posted April 13, 2011