By Kim Plummer Krull
At least 24 LCMS member families are among the Texans who have lost homes in massive wildfires that continue to blaze in the Lone Star state, according to the Rev. Steven Misch, mission and ministry facilitator and disaster-relief coordinator with the LCMS Texas Distri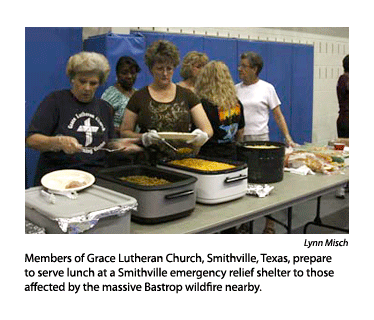 ct.
The families include at least one retired pastor, the Rev. Albert Loeschman, a member of Grace Lutheran Church, Elgin, who lives in the hard-hit Bastrop area, Misch said.
In a Sept. 9 update, Misch also reported that:
six additional LCMS families who are evacuees are still waiting to learn the status of their homes. The families include Dr. Lou Jander, a retired LCMS Texas District mission and ministry facilitator, and his wife, Martha.
another six LCMS member families who are evacuees learned that their homes survived the blazes.
at least 11 LCMS congregations have been impacted by the fires, with the members of Prince of Peace Lutheran Church in Bastrop "the hardest hit," Misch said.
to date, no LCMS churches or schools have reported wildfire-related damages.
Grace Lutheran Church, Smithville, is among several LCMS congregations helping to meet emergency needs.
Area LCMS members "are rising to the occasion to support families in their congregations and communities," said Misch, who is also fielding offers from groups beyond Texas to travel to the fire-weary state and lend a hand.
While their willingness to serve is much appreciated, Misch says that in addition to prayer, the best way to help families is to make a financial gift.
The wildfires "are a different animal" than hurricanes or floods, Misch said. While those disasters tend to impact large numbers of people in concentrated areas, the fires "are very particular," he said, "hitting one neighbor but maybe not the next one."
Many Texans "are still waiting to get back to their homes. They're still waiting for the insurance people to show up," Misch said. "We know people want to come down and help, but the best thing they can do now is make a gift to help a family who may have lost everything."
Financial donations also are more helpful than contributions of clothing and other material items at this time, Misch said.
On Sept. 6, LCMS World Relief and Human Care (WR-HC) announced a grant of up to $25,000 to support the work of Lutheran Social Services of the South (LSS) in response to the wildfires in Texas.
The Rev. Glenn F. Merritt, WR-HC's director of Disaster Response, continues to work with LCMS Texas District pastors and leaders, including Texas District President Rev. Kenneth Hennings; Misch; and LSS, an LCMS Recognized Service Organization based in Austin.
For more information about fire damages, needs and giving opportunities in Texas, visit the LCMS Texas District's disaster-relief website and its blog site, or the LSS website.
To make a gift to help WR-HC assist households, congregations and communities suffering in the wake of the Texas wildfires:
Mail checks (noting "Fire Relief" in the memo line) to LCMS World Relief and Human Care, P.O. Box 66861, St. Louis, MO 63166-6861.
Call toll-free 888-930-4438.
Give online (click here), designating your gift as "Texas Wildfire Relief" in the comments box of the giving form.
Note: Any funds not needed for this relief effort will be used for other disaster purposes as determined by LCMS World Relief and Human Care. Your gift is tax-deductible to the extent permitted by law.
Kim Plummer Krull is a freelance writer and member of St. Paul's Lutheran Church, Des Peres, Mo.
Posted Sept. 10, 2011