After 46 years of cooperation between the Japan Lutheran Church and the LCMS, the Volunteer Youth Ministry (VYM) program has come to an end. The two partner churches had decided in fall 2010 — before the March 11 earthquake and ts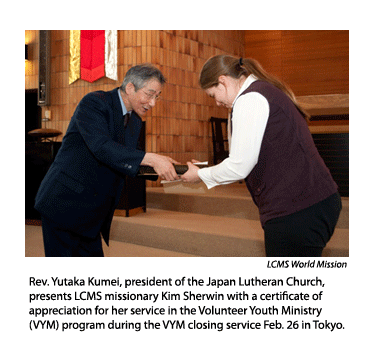 unami — to conclude the VYM program at the end of March 2011.
Globally Engaged in Outreach (GEO) missionaries who have completed their VYM service and returned to the United States, along with their spouses, are Matthew Hass, Justin Kumfer, Kim Sherwin and Jenae Siebarth. A fifth GEO-VYM missionary, Peter Pfaff, who has been based in Niigata, Japan, along with Siebarth, was expected to leave for the U.S. by the beginning of April.
Tokyo-based Hass, Kumfer and Sherwin were temporarily relocated by LCMS World Mission to Kobe, Japan, on March 17 because of concerns about the earthquake-damaged nuclear power plants. They returned to Tokyo March 22 to complete their VYM service and prepare for their return to the United States.
LCMS career missionary Rev. Jonathan Blanke and his family returned to Tokyo March 25.
Blanke and the GEO missionaries took part in a closing worship and celebration for the VYM program Feb. 26 in Tokyo. Some 70 people attended the "service of thanksgiving," which was conducted in Japanese, with some Bible readings and hymn verses in English.
During the celebration, JLC President Rev. Yutaka Kumei presented certificates of appreciation to Hass, Kumfer, Pfaff, Sherwin and Siebarth. Travis Torblaa, former VYM missionary and current personne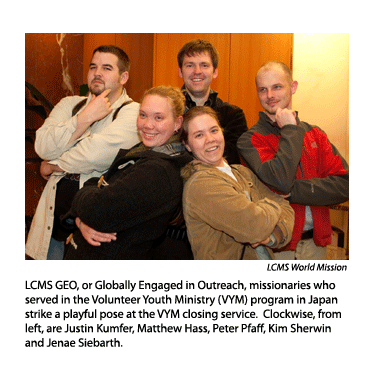 l care manager for LCMS World Mission, presented Kumei with a gift from the LCMS.
The VYM program in Japan began as the Prince of Peace Volunteers (POPV) program in 1965. Some 80 LCMS lay missionaries served with POPV in Japan before the program's name changed to VYM in 1973.
Since then, more than 220 lay missionaries have been sent by LCMS World Mission to work closely with the JLC as relationship-builders and English teachers, sharing the love of Christ in word and deed.
Based at JLC congregations, VYM missionaries reached out to surrounding communities through English classes and other activities, which provided opportunities to build relationships and share the Gospel.
Torblaa said he enjoyed "reconnecting with members of the Japan Lutheran Church" at the VYM closing service, and "sharing stories of how God continues to work through them to make Christ known in Japan. This included talking with JLC members that first heard the Gospel through a VYM missionary or by attending a VYM-sponsored event. Thanks be to God for His work among the Japanese!"
Posted March 31, 2011