The Women's Leadership Institute (WLI) is holding an "information meeting" from 5 to 7 p.m. on Tuesday, Sept. 13, at Concordia Publishing House in St. Louis.
The meeting — which includes a light meal and beverages — is free and open to anyone who is interested in learning more about the WLI, meeting WLI leaders and getting involved in the WLI's next national conference, to be held March 9-11, 20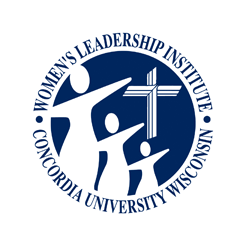 12, in St. Louis.
Founded in 2003 and based at Concordia University Wisconsin in Mequon, Wis., the WLI works to encourage, equip and educate women for Christian leadership in the home, church, workplace and world. The organization reaches out to women of all generations and provides networking opportunities that are designed to enable them to mentor and learn from one another.
Its national conferences, held every other year, offer plenary speakers and workshops on topics of interest to women.
Speakers at next year's conference include Ruth N. Koch, a mental health educator and author, speaker and consultant; Ted Kober, founder and president of Ambassadors of Reconciliation; Dr. Mary Scott, provost of Concordia University, Irvine, Calif.; Deb Burma, author of women's Bible studies and devotions; Dr. Mary Hilgendorf, professor of education at Concordia University Wisconsin, Mequon, and former WLI president; Janice Wendorf, former president of the Lutheran Women's Missionary League; and Heidi Floyd, breast cancer survivor and ambassador for the Vera Bradley Foundation for Breast Cancer.
Koch will give the keynote on "The Surprising New Realities and Lopsided Gend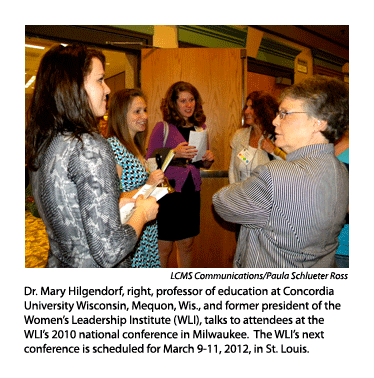 er Balance in the Workplace," and plenary sessions will focus on "Women's Ways of Leading," by Scott, and "Opportunities for Women as Ambassadors of Reconciliation," with Kober.
Workshop topics will be offered on a variety of topics, including mentoring, ministry to and with college students, young adult ministry, building a women's ministry in your congregation, outreach in the workplace, planning and organizing short-term mission trips, how to equip leaders, leadership strategies, cultivating spiritual friendships within Bible study, dealing with cancer, single life and ministry to international students.
Registration and information about the WLI's 2012 conference will be available online in mid-September.
Those who plan to attend the information meeting are asked to RSVP by Sept. 1 to Sheri Urban at 866-559-0002 or sheri.urban@cuw.edu.
To learn more about the Women's Leadership Institute and its biennial conferences, visit its website at www.wlicuw.org.
Posted Aug. 17, 2011