By Adriane Dorr

Following two years of fraternal theological dialogue, The Lutheran Church–Missouri Synod (LCMS), the Anglican Church in North America (ACNA) and Lutheran Church–Canada (LCC) recently issued a joint statement, affirming "core teachings of the Christian faith shared by our church bodies."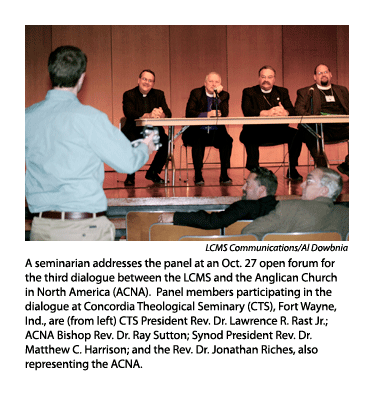 "It is a great blessing to be walking alongside The Lutheran Church–Missouri Synod," said ACNA Archbishop Rev. Robert Duncan, primate of the relatively young church body that is comprised of some 100,000 Anglicans in the United States and Canada.  "We share an unwavering commitment to the authority of Scripture and have been able to support each other as we take a bold stand for the historic faith."
LCMS President Rev. Dr. Matthew C. Harrison also noted, "In a time when there is a widespread failure to recognize the biblical teaching regarding the creation of man and woman and their biblical roles, life issues and other grave challenges that society faces, it is a joy to find a group of Christians within the Anglican Church of North America who affirm this biblical teaching and who desire to cooperate in externals with the Missouri Synod in upholding the biblical natural law in society."
In 2010, representatives from ACNA, the LCMS and LCC (a partner church of the LCMS) set dates and topics for theological discussion. The goal of the talks, says LCMS Commission on Theology and Church Relations Associate Director Rev. Larry Vogel, was "not altar and pulpit fellowship but a desire to affirm similarities of historical and contemporary concerns" between the two churches. Representatives of both church bodies also had "hope of being able to declare shared understandings regarding important areas of Christian teaching and life today," he noted.
Official ACNA participants in the discussions included Duncan, Bishop Wes Nolden, the Rev. Dr. Jonathan Riches and Bishop Ray Sutton.  Representing the LCMS were Harrison; Vogel; The Rev. Dr. Albert B. Collver III, director of LCMS Church Relations; the Rev. Dr. Frederic Baue, who is an LCMS pastor; CTCR Executive Director Rev. Dr. Joel Lehenbauer; and the Rev. Dr. Lawrence Rast, president of Concordia Theological Seminary, Fort Wayne, Ind. Dr. John Stephenson represented Lutheran Church–Canada.
A series of four meetings took place, with topics ranging from exploring each church's identity and background, to discussing the contemporary challenges faced by pastors and theologians. Afterward, the churches drafted and then released a statement affirming a mutual belief in the three ecumenical creeds, Baptism, justification and the infallibility of the Holy Scriptures.
The statement also acknowledged areas and topics in which the churches have differing views and intend to engage in future discussions, including different perspectives on women's ordination, the understanding of Christ's presence in Holy Communion, the office of bishop, and liturgical practices. A second round of discussions addressing these and other topics will begin this fall.
"Our churches share much in common in the confession of the ecumenical creeds, but we also have differences in doctrinal belief," said Harrison. "Hermann Sasse noted that churches who can honestly discuss where they have disagreements in doctrine are, in fact, closer to each other than churches who cannot discuss such matters."
The Rev. Dr. Robert Bugbee, president of Lutheran Church-Canada, while also acknowledging that differences exist, spoke in support of the statement, noting, "Despite the decay in foundational Christian teaching among mainline churches in North America, the Lord is opening doors for us to encourage each other to root our work in the apostolic Gospel of Christ and in the Scriptures as God's infallible Word."
Adriane Dorr is managing editor of The Lutheran Witness.
Posted May 25, 2012