Two staff members in the Synod's Office of International Mission (OIM) began serving newly created OIM positions Oct. 15.
The Rev. Dr. David C. Birner, who previously served as interim executive director and co-executive director of the OIM — along with interim co-executive director Rev. John Fale, now associate executive director of the LCMS Mercy Operations Group — is now associate executive director for Administration, Planning and Operations.
In his new post, Birner will work closely with new OIM Executive Director Rev. Randall L. Golter (who joins the staff Oct. 25) to help implement the OIM's vision and strategic plan; manage relationships with domestic and international partners; develop and promote church planting, leadership formation and sustainability models; support personnel requirements for executing regional strategies; supervise mission staff needs and services; oversee special projects and initiatives; and assist with the day-to-day operations of the department.

In an Oct. 10 memo to OIM staff, regional directors, missionaries and LCMS unit executives announcing the staff changes, LCMS Chief Mission Officer Rev. Gregory K. Williamson said he is "grateful for the perspective and experience Dave b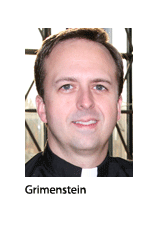 rings to his new position, and I look forward to God's blessings on Dave's work in this new role."
The Rev. Dr. Edward O. Grimenstein, former manager of Disaster Response, is now director of Personnel. In that role, Grimenstein is responsible for the care and support of all short-term volunteer, GEO (Globally Engaged in Outreach, serving one- to two-year terms) and career missionaries, including recruitment, training, security and supervision.
Of Grimenstein, Williamson said, "Edward brings rich experience to this position, and I am confident the Lord will bless Edward's work in this new role."
Posted Oct. 17, 2012