A total of 139 pastoral candidates were placed into their first calls during "call day" services May 1 at Concordia Seminary, St. Louis, and May 2 at Concordia Theological Seminary, Fort Wayne, Ind. Those called included one student from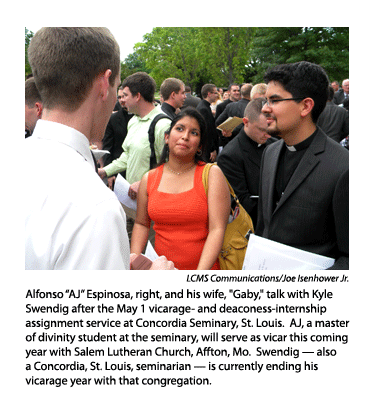 Concordia Lutheran Theological Seminary in St. Catharines, Ontario, Canada, and one who completed the Synod's colloquy process.

Also receiving yearlong assignments at May 1 services in St. Louis and Fort Wayne were a total of 114 vicars and seven deaconess interns.

In addition, one deaconess was placed by the St. Louis seminary into her first call. The Fort Wayne seminary's deaconess placement service is scheduled for May 17.

The Synod's Council of Presidents (COP) approved the calls and vicarages April 28.

Five pastoral candidates did not receive calls because "they have special needs that require calls to congregations where those needs can be met," said the Rev. Kurtis D. Schultz, chairman of the COP Placement Committee and president of the LCMS Southern District.

The Rev. Dr. Glen Thomas, executive director of LCMS Pastoral Education, told Reporter that, in his opinion, "call day, more than any other day on our seminary campuses, brings into sharp focus the mis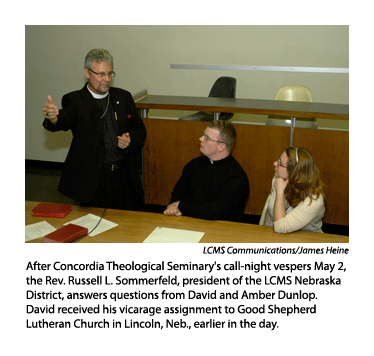 sion of our seminaries."

He is confident, he added, that "God will work through the Word proclaimed and the sacraments administered by these candidates for generations to come."

Among those receiving a call from Concordia Seminary was Austen L. Welter, who will serve as pastor of St. John Lutheran Church in South Euclid, Ohio, a suburb of Cleveland.

Welter, 26, who has not yet visited the 266-member congregation, said he is nevertheless "excited, and kind of relieved, knowing where I'm going. There's been a lot of buildup to this day. Throughout the entire fourth year at the sem, this is the day you look forward to."

He's also happy, he added, that St. John operates an elementary school, since Welter and his wife, Amanda, are expecting their first child in early November.
Posted May 5, 2012