with Barbara A. Below

Following is the first in a series of
Reporter columns that will provide information about the next LCMS national convention.
As the 65th Regular Convention of The Lutheran Church–Missouri Synod approaches, this Reporter column will offer convention news, highlights and information that those of us involved in planning this important event tru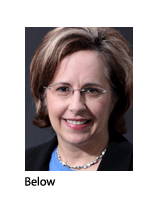 st will be helpful.
The convention will be held July 20-25, 2013, at the America's Center Convention Complex, located in downtown St. Louis. The tentative schedule is for July 19 to be designated for floor committee meetings that need to take place prior to the convention.
Open hearings are planned for the morning of July 20, with the convention opening worship occurring later that afternoon.
While July 2013 may seem a long way off, April 1 marks only 475 days until the next national convention of the LCMS! Much work has already begun in preparation for the convention. Much more lies ahead.
Here are some highlights of what has already taken place:
The theme for the 65th Regular Convention of the LCMS will be "Baptized for This Moment," based on Acts 2:39: "For the promise is for you and for your children and for all those who are far off, everyone whom the Lord our God calls to Himself."

The LCMS Southern Illinois District will host the convention.

Voting systems are being evaluated and selected for use by the delegates, as well as for the presidential vote that will take place approximately one month before the convention.

Floor committees will be organized and named as follows:


1. Witness;
2. Mercy;
3. Life Together;
4. Theology and Church Relations;
5. Seminary and University Education;
6. Administration and Finances;
7. Structure and Ecclesiastical Matters;
8. Registration, Credentials and Elections; and
9. Nominations.
At the behest of the 2010 Synod convention, much has changed in regard to convention procedures.
Synod Secretary Rev. Dr. Raymond Hartwig has been sending out regular postcard mailings with information and instructions concerning what needs to be done at the congregational, circuit and district levels to establish delegates and address overtures and other convention matters. The most recent postcard mailing provided information about establishment and maintenance of the presidential election voters list. To see this postcard and all past mailings, go to www.lcms.org/convention/procedureupdates.
Earlier this year, Secretary Hartwig's office sent out the "2011 Congregation Statistics Report" form.
While this report is always important, it is especially important for every congregation to submit the form this year, for two reasons. First, the information provided will be necessary for determining delegate representation at the 2013 convention. Second, the 2010 convention amended Bylaw 1.3.4 to make clear that congregations providing an annual statistical report is an expectation of membership in the Synod.
The goal for the return of the 2011 Congregation Statistical Report is that 100 percent of LCMS congregations return this report. If your congregation's report has not already been returned, please do what you can to make sure it is returned as soon as possible. If you have questions about the report, please call the secretary's office at 800-248-1930, ext. 1417.
Keep an eye on Reporter for future "Convention Corner" columns.
Barbara A. Below is an assistant to the Synod president.
Posted March 30, 2012