Books and other gift ideas for Father's Day, June 17, are available from Concordia Publishing House.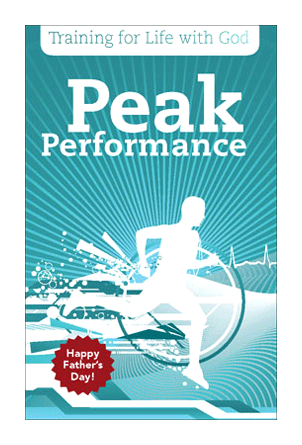 Among gift items available are:
Peak Performance Dad's Devotional ($2.99, item no. 370149WEB), a 32-page paperback that's designed for giving on Father's Day with the cover message of "Happy Father's Day!" The devotional includes "brief accounts of athletes who faced obstacles and, no matter the outcome, remained strong and faithful in Christ," according to CPH. The price of this devotional drops to $1.99 each when 13 to 48 copies are purchased, or to 99 cents each for 49 or more.
Courageous Fathers of the Bible ($8.99, item no. 203974WEB), which explores in 120 pages the lives and faith of "12 fathers of the Bible," including Adam, Noah, Abraham, Isaac, Jacob, David, Job, Solomon and Joseph. Study questions are included to "challenge and inspire men as they learn more about becoming a courageous father of faith."
Blessings and Prayers for Men ($5.99, item no. 124271WEB), a pocket-sized, 192-page devotional that offers daily prayers, psalms, hymns and canticles, Scripture readings and a brief summary of the Christian faith.
Strength Inspirational Mug ($9.99, item no. 361582WEB), a black ceramic mug with the words of Joshua 1:9, which encourages its owner to "stand strong in the Lord."
"Jesus Christ is Lord" multi-function tool ($16.99, item no. 361764WEB).
For more information about these and other gifts for fathers, or to order, contact CPH at 800-325-3040 or visit its website at www.cph.org. Prices quoted do not include shipping charge.
Posted June 1, 2012