The Apocrypha — 14 books of writings produced in the 400 years between the Old and New Testaments — is now available for the first time in English with Lutheran notes.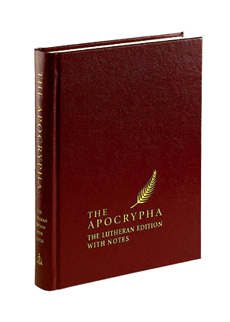 For centuries, every Lutheran's Bible (Martin Luther's German translation) included the Apocrypha. But the English Bibles used by Lutherans in more recent years do not.
"These books" of the Apocrypha, wrote Luther, "are not held equal to the Scriptures, but are useful and good to read."
Now Concordia Publishing House announces the revival of these seemingly forgotten books with its publication of The Apocrypha: The Lutheran Edition with Notes.

"As long as CPH published Luther's Bible in German, our church was aware of the existence of these books," said CPH Publisher Rev. Paul T. McCain. "In fact, even into the 1970s it was still available — but only to those who could read German."
From Luther to the Rev. Dr. C.F.W. Walther, the Synod's first president, the Apocrypha was used and referenced by orthodox Lutheran theologians in their doctrinal works, sermons and devotional writings.
McCain acknowledges that the books "have long been a rich part of our biblical Lutheran heritage" — serving as the text for beloved hymns such as "Now Thank We All Our God" — and "they were commonplace reading materials for all Lutherans at the time of the Reformation and for hundreds of years afterwards."
He and the Rev. Edward Engelbrecht, general editor of The Apocrypha: The Lutheran Edition with Notes, consider the Apocrypha to be an important text because it can help Christians understand the New Testament.
"In general, it fills the gap between the testaments," explains Engelbrecht. "It benefits anyone who wants to learn how the New Testament and Christianity came about."
CPH's edition of The Apocrypha includes extensive quotes and explanations from Luther and Johann Gerhard, as well as study notes and commentary from biblical scholars. Also included are maps, charts, illustrations, book introductions and related articles that are intended to be helpful to readers.
The new book, says noted author Rev. Dr. Paul L. Maier, is "quite likely … the product of one of the most ambitious projects dealing with the Apocrypha ever undertaken. Not only does it offer an unfailingly accurate translation of the various texts involved, via the English Standard Version, but it is also replete with scholarly notes and commentary to assist the reader — lay or professional — in every way possible."
Maier — LCMS third vice-president and The Russell H. Seibert Professor of Ancient History emeritus at Western Michigan University, Kalamazoo, Mich. — is the author of A Skeleton in God's Closet, More than a Skeleton, The Constantine Codex and numerous other books for adults and children.
Engelbrecht encourages every Christian to make reading the entire Bible and the Apocrypha "a life goal" and says CPH is "proud to be able to offer both of these books in English and with distinctively Lutheran notes."
The Apocrypha: The Lutheran Edition with Notes (item no. 012065WEB), normally priced at $39.99, is available through Dec. 31 at an introductory price of $34.99.

Also available is a Study Guide to the Apocrypha (item no. 204167WEB), normally priced at $7.99, on sale for $5.

To order, call CPH at 800-325-3040 or visit www.cph.org/apocrypha. Prices quoted do not include shipping charges.

Posted Sept. 12, 2012