By Kim Plummer Krull

Just days after taking part in an LCMS disaster-response training conference for the Asia Pacific region, Filipino Lutherans are preparing to use that "Mercy in Action" guidance to help devastated families in their typhoon-battered country.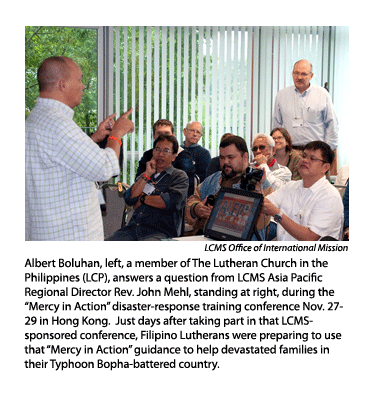 "What a blessing that the ALERT [Active Lutheran Emergency Response Team] just received their training and are now better equipped to complete the [damage and needs] assessment," the Rev. John A. Fale, associate executive director of LCMS Mercy Operations, said of the Lutheran Church in the Philippines' (LCP) disaster-response team members who participated in the Nov. 27-29 conference in Hong Kong. (See related story, "Disaster-response training helpful, say partner-church reps.")
Many members of that team are now back in the Philippines and in the process of assessing damages and needs after Typhoon Bopha, the powerful storm that has killed nearly 350 people, with some 400 missing, according to news reports.
Early devastation reports include villages turned into muddy wastelands of collapsed homes and possibly entire families washed away. One of the LCP's congregations is in the affected area, according to the Rev. John Mehl, LCMS Asia Pacific regional director.
After speaking with the Rev. James D. Cerdeñola, LCP president, Mehl reported that the LCMS partner church in the Philippines is evaluating the devastation and working with ALERT members on relief plans.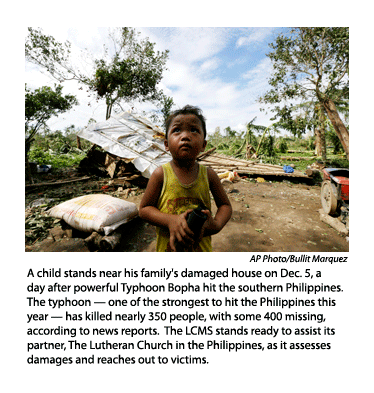 "Who knew they would be putting their training to use so quickly?" the Rev. Carlos Hernandez said of the ALERT members, whom he helped instruct on Christian care in a disaster's wake at last week's training.
Ten Filipino Lutherans were among disaster-response ministry leaders from nine countries who took part in the "Mercy in Action" conference, led by the Rev. Glenn F. Merritt, director of LCMS Disaster Response, and Hernandez, director of LCMS Church and Community Engagement.
"They were highly energetic and enthused about the training," Hernandez said of theLCP delegation. "So we have disaster-response trained folks on the ground ready to work with us."
At the recent conference, Genmar Pizarro, the LCP's Human Care coordinator and an ALERT member, told Reporter Online that "in the past disaster relief operations, we had a little problem in the preparation, but with the help of the LCMS and our fellow workers, we can prepare well."
Pizarro is now working with LCP President Cerdeñola on what is expected to be a grant request to the LCMS for emergency assistance to help with relief needs.
Typhoon Bopha slammed into the southern Philippines on Tuesday, Dec. 4, blowing away homes with 130-mile winds. News reports show grizzly images of continuing recovery work as families search through bodies looking for missing relatives.
To support those in need from this typhoon:
make an online gift at https://www.lcms.org/givenow/disaster.
mail checks payable to "The Lutheran Church–Missouri Synod" (with a memo line or note designating "LCMS Disaster Relief") to The Lutheran Church–Missouri Synod, P.O. Box 66861, St. Louis, MO 63166-6861.
call toll-free 888-930-4438 (8:10 a.m. to 4:10 p.m. CST, Monday through Friday).
Kim Plummer Krull is a freelance writer and a member of St. Paul's Lutheran Church, Des Peres, Mo.
Posted Dec. 6, 2012