Concordia College — New York in Bronxville, N.Y., announced Oct. 24 that its president for the past 13 years, Dr. Viji D. George, has agreed to continue in that post and that the college's board of regents has terminated its search for a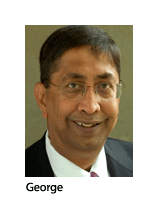 new president.

George, who had planned to step down next summer at the end of his current contract, said the board "made a compelling case that the timing is not right to make a change in leadership at the college. I look forward to working with the board and the people at Concordia to build on the current momentum."

On behalf of the board, Chair Jean Hanson said, "We are delighted that Viji has agreed to continue his strong leadership of Concordia. Following a several-month search for a new president, the board determined that the best result for the college was to stay with a proven, dynamic leader who is a passionate spokesman for the college, who knows the college well, and who will be able to help Concordia capitalize on the exciting opportunities before it."

George says he looks forward to pursuing several pending and new initiatives. "We have just received state approval for a new graduate program in business leadership, and are seeking approval of other new offerings that build on our core competencies and address market needs," he noted. "Our international student recruitment efforts in China, Korea and India are extremely promising. My family and I look forward to remaining here at Concordia in Bronxville which has been our home for over 30 years."

George was elected president of Concordia in 1999, after serving almost 20 years on the faculty and in senior administrative posts. Under his direction, the college added its first graduate degree program in special education, launched an acclaimed nursing program and received several of the largest gifts and grants in its history.

The college has "invested strategically in its facilities, including a recent $5.6 million state-of-the-art energy-savings project," according to a news release, and George also "spearheaded initiatives that strengthened the ties of the college with the local community through programs like the Business Breakfast series and 'Travel and Learn' trips to India and elsewhere."

Concordia College — New York is one of 10 institutions nationwide that make up the LCMS Concordia University System (CUS). For more information about CUS schools, click here.
Posted Oct. 24, 2012