By Kim Plummer Krull

An initial grant of $2,500 has been sent by the LCMS to the Lutheran Synod of Mexico to help Mexico City congregations respond to survivors' most critical needs for food, water, medical care and shelter since a 7.4-magnitude earthqua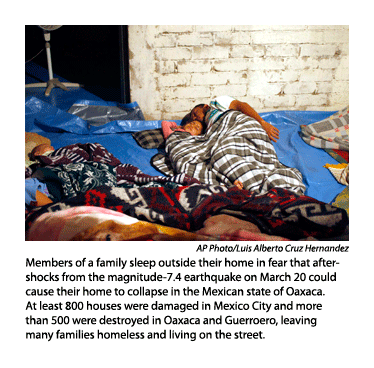 ke rocked southwestern portions of the country on March 20.

At least 800 houses were damaged in Mexico City and more than 500 were destroyed in the states of Oaxaca and Guerroero, according to the grant request, leaving many families homeless and living on the street.

The Rev. Glenn F. Merritt, director of LCMS Disaster Response, and the Rev. Carlos Hernandez, director of Strategic Development (including Hispanic ministries) for the LCMS Office of National Mission, have been in close touch with President Alvaro Lopez of the Lutheran Synod of Mexico since the quake triggered landslides and knocked down walls, with repeated aftershocks terrifying families.

On March 26, Lopez told Hernandez that announcements were made at Lutheran services in Mexico the previous day about relief efforts and that families are beginning to come forward with their needs.

Lopez was expected to meet March 27 with the Lutheran Synod of Mexico council to discuss earthquake responses in Mexico City, Acapulco and especially Oaxaca, the city closest to the quake epicenter. He said plans are in the works for him to travel to Oaxaca to assess damages and meet with a small Lutheran group not yet connected to the Lutheran Synod of Mexico.

The grant, made possible by donors to the LCMS, will provide small individual grants while needs assessments continue, according to Merritt. The Lutheran Synod of Mexico is the LCMS partner church in that country.

The Mexican Lutheran president asked LCMS Disaster Response leaders to thank the LCMS "for their prayers and expressions of concern," Hernandez said.

The quake is reportedly the strongest to hit the country since the devastating 8.1-magnitude tremor of 1985 that killed thousands in Mexico City.

"Our prayer is that, under the power of the Holy Spirit, doors might be open to share the Gospel in this region like [what] occurred after LCMS earthquake-relief efforts in Peru and Chile," Hernandez said.

To make a gift to help share Christ's mercy with families in need:
make an online donation (click here).
mail checks (payable to "The Lutheran Church–Missouri Synod" and noting "Earthquake Relief" in the memo line) to The Lutheran Church–Missouri Synod, P.O. Box 66861, St. Louis, MO 63166-6861.
call toll-free 888-930-4438.
Donations received in excess of the need for this relief effort will be wisely used to support LCMS disaster-response and relief efforts in other areas where the need is great as determined by The Lutheran Church–Missouri Synod. Your gift is tax-deductible to the extent permitted by law.

Kim Plummer Krull is a freelance writer and a member of St. Paul's Lutheran Church, Des Peres, Mo.
Posted March 30, 2012