Delegates to the 20th convention of the Synod's Indiana District elected the Rev. Dr. Daniel P. May to a fourth term as president and, in resolutions, called on congregations to join in celebrating the district's 50th anniversary in 2013.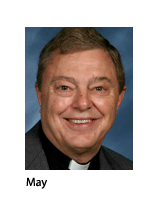 May, 69, was elected on the first ballot at the June 28-29 convention in Fort Wayne, Ind. The convention theme was "Celebrating God's Love," based on Phil. 1:3-5. May and other elected officers were installed during a convention worship service.

Four men were elected as regional vice presidents, then ranked in succession. They are:
the Rev. Roger E. Rohde, senior pastor of St. Paul Lutheran Church, Bremen, Ind., first vice-president, representing the Northwest Region.
the Rev. Dr. Daniel J. Brege, pastor of St. Paul Lutheran Church, Decatur, Ind., second vice-president, Northeast Region.
the Rev. Martin E. Keller, pastor of St. Paul Lutheran Church, Brownstown, Ind., third vice-president, Southern Region.
the Rev. David A. Shadday, senior pastor of St. Paul Lutheran Church, Indianapolis, fourth vice-president, Central Region.
The convention recognized Larry Jung for 37 years of "faithful and effective service" as the district's finance executive and Lutheran Church Extension Fund vice-president. Jung plans to retire at the end of the year.

As part of the 50th anniversary observance, the district's congregations were encouraged to:
invite 50 new families to worship next year. A resolution adopted by delegates asks the district president, regional vice-presidents and circuit counselors to personally encourage each congregation to meet that goal. Congregations also were asked to report, by the end of 2013, how God has blessed their efforts through baptisms and confirmations.
celebrate by giving thanks in public worship services for the work of the Gospel carried out by the district's ministries, use worship resources prepared and distributed by a special anniversary committee, and gather a "thankoffering" designated for church-worker scholarships.
In other action, the convention expressed opposition to the U.S. Department of Health and Human Services mandate on the provision of abortion-inducing drugs. On behalf of the district's congregations, the district president plans to formally petition the U.S. senators from Indiana and Kentucky to oppose this mandate and to introduce and/or support legislation prohibiting it. The resolution also encouraged laity and church workers to study the issue in light of God's Word and to exercise responsible Christian citizenship to oppose and/or overturn the mandate.

In another resolution, circuits were asked to develop mission plans for the next 10 years to foster the growth of Lutheranism within their areas. The resolution calls on district officers to encourage circuit counselors to meet that goal and asks the mission executive to provide circuits with access to demographic information.

The convention also voted to approve a $300,000 debt-reduction grant for Concordia University, Ann Arbor, Mich. (CUAA). The grant will come from the district's unrestricted funds, and its allocation is contingent upon the actual merger of CUAA with Concordia University Wisconsin, Mequon, Wis.

Posted July 5, 2012