ST. LOUIS — The heads of the three Synod-owned international schools in Asia met together for the first time with the church body's Board of Directors in an hour-and-a-half session during the Board's Feb. 16-17 meeting here.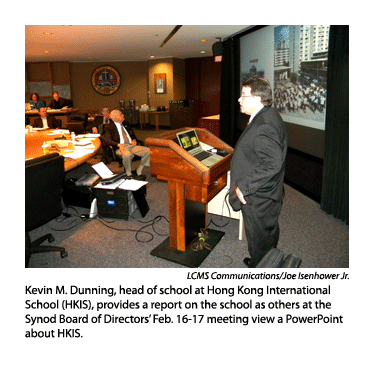 They are Kevin M. Dunning, head of school at Hong Kong International School (HKIS); Dr. Jim Koerschen, head of school at Concordia International School Shanghai (CISS); and Head of School Steven Winkelman of Concordia International School Hanoi (CISH).

Each school head shared through a PowerPoint presentation a rundown of his school's history, mission, current operations and goals for the future.

The Rev. Dr. David Birner, interim co-executive director of the Synod's Office of International Mission, introduced the school heads. He also introduced the Board to Gregg A. Pinick, executive director of Orange County Lutheran High School, who has accepted the call to become head of school at Shanghai this summer, after Koerschen's retirement.

Birner pointed out that all three schools offer "high-quality American-style education that treats each child as a gift from God, while preparing students to reach out to their communities and beyond through service projects."

Birner explained that the international schools' enrollments are primarily made up of children of expatriates based where the schools are located. He also indicated that the three schools are "highly regarded throughout the local and international business communities."

"Now is the time for Lutheran education to excel globally, but especially in Asia," Birner told the Board. "We have a future ahead of us, on the world stage, like never before with international schools."

HKIS has been in operation since 1967, CISS since 1998, and CISH opened its doors last fall.

At the end of the presentation about the international schools, Board Chairman Rev. Dr. Robert Kuhn said, "I don't know about the others, but I just sit here in awe, with thanks to God for these great schools."

"Thanks to you and for … how the Lord uses you — the tremendous service you and your organizations provide for young people," he told the three school heads after a question-and-answer session with the Board.

In line with recommendations of the joint task force of the Board of Directors and the former Board for Communication Services that reviewed KFUO-FM in 2009, the board adopted a resolution stating that half of the revenue from that sale "be designated for use for the Synod's communications programs," including the LCMS communications department and KFUO-AM.

The resolution also stipulates that "costs associated with the closing of KFUO-FM be considered to be paid from the portion designated for communicator purposes," and that costs associated with "any future move of KFUO-AM [staff and operations] to the [Synod] International Center or current building remodeling costs be considered as coming from the portion designated for communications."

The remainder of the income from the KFUO-FM sale would be considered unrestricted Synod revenue.

Among other actions, the Board:
chose Dr. Gerhard H. Mundinger Jr. of Madison, Miss., to fill a convention-elected vacancy on the Concordia University System Board of Directors;
authorized and approved creation of a legal entity in Germany to support an LCMS regional office in that country and LCMS workers in 22 countries in that Eurasia Region.
endorsed projects submitted by LCMS units for funding from the 2012-13 Thrivent Churchwide Grant.
approved in separate resolutions LCMS Foundation Articles of Incorporation and Bylaws, as well as revised Lutheran Church Extension Fund (LCEF) Articles of Incorporation and Bylaws.
re-appointed Brown Smith Wallace LLC to audit the consolidated financial statements of the Synod for the current fiscal year and for the two years to follow.
Dr. Robert L. Krizek, an associate professor in the Department of Communication at Saint Louis University, made a presentation to the Board titled "Communicating across Generations: What Organizations (and their leaders) Should Know."

Krizek is a resource person and presenter in the Synod's Matura leadership-development program that has been in place for a number of years and involves employees of the national Synod offices, Concordia Plan Services, the LCMS Foundation and LCEF.

He reminded the Board of how different generations typically communicate, including:
Matures (those born before 1946), whose communication style is formal, usually through memos or letters;
Boomers (born in the period of 1945-64), who prefer in-person, personal communications and use meetings, the telephone and answering machines to convey information;
Gen-Xers (1965-80), whose communication is "direct and immediate" via voicemail, pagers, email and mobile telephones; and
Nexters, Gen-Yers and Millennials (1981-2000), and their reliance on continual and interdependent communications modes – including text messages, Twitter, Facebook, Skype and mobile telephony.
He said this means that "communication is becoming more kinesthetic and mosaic"; that "multiple media" should be employed "for delivering messages across your multi-generational organization"; that communicators should "think about 'pull' as an alternative to 'push' " and realize that "continual and interdependent communication is different, not wrong."

"The best communicators are the people who adapt their communication style and medium to the audience," Krizek said.

Board member Rev. Dr. Donald Muchow asked Krizek what all this means for those preparing and delivering homilies.

Krizek recommended employing for sermons "the only thing humans do to communicate that other animals can't – tell stories," which he also said should be illustrated with visuals.

The next meeting of the Synod Board of Directors is May 17-18 in St. Louis.
Posted March 7, 2012