The Rev. Keith Kohlmeier was re-elected to his fourth term as president during the 71st regular convention of the LCMS Kansas District, held June 7-9 in Topeka.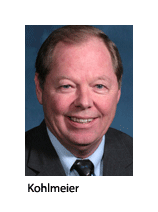 Kohlmeier, 59, a resident of Topeka, Kan., was elected on the first ballot of the convention. He has served for nine years as district president. This will be his final term, since district bylaws limit the president to four terms.

Delegates also elected the following:
the Rev. Peter Lange, senior pastor of St. John Lutheran Church, Topeka, to his first term as first vice-president;
the Rev. David Gruoner, pastor of Zion Lutheran Church and School, Linn, Kan., second term, second vice-president;
the Rev. Scott Snow, senior pastor of Holy Cross Lutheran Church and School, Wichita, Kan., first term, third vice-president; and
the Rev. Wayne (Rick) Rostek Jr., pastor of Immanuel Lutheran Church, Norton, Kan., first term, fourth vice-president.
The officers were installed during the convention.

With "You Shall Be My Witnesses" (based on Acts 1:8) as its theme, the convention emphasized inspiration and motivation as it also handled operational aspects.

Following district bylaw, presentations focused on work done in various missions and ministries.

"Mission Moments" highlighted five ministries: Missionaries Jack and Cathy Carlos described work in Guinea, West Africa, where the district serves as a partner. Outreach to Native Americans was shown in the LIGHT (Lutheran Indians Gathering and Helping Together) Ministry at Haskell Indian Nations University, Lawrence. Campus ministries were reviewed at universities in Lawrence, Emporia, Wichita, Topeka, Manhattan, Hays and Pittsburg. Another report described how 25 congregations are undergoing revitalization through the Transforming Churches Network. Lutheran Urban Ministry Association (LUMA) highlighted ministries in the greater Kansas City area.

The convention worship offering of $8,471 will support a building project on the Guinea mission field.

As they considered resolutions, delegates debated at length the ways and means of Gospel proclamation from a confessional context.

Resolutions included support for the Guinea mission, Haskell LIGHT, outreach and new ministries, Lutheran education at all levels, ministry for family life, and revitalization within congregations while maintaining biblical and confessional integrity. The convention also encouraged congregations to use district salary scales and to designate offerings received at installations to the district scholarship fund or student loan repayment fund.

For the first time, delegates used an electronic voting system, which hastened the voting processes, especially for elections.

Serving as essayist, the Rev. Dr. Reed Lessing, associate professor of Exegetical Theology at Concordia Seminary, St. Louis, took the delegates and guests into the history and contemporary significance of Is. 48:20 as he spoke on "Get out of Babylon, flee from Chaldea."

Synod President Rev. Dr. Matthew C. Harrison reviewed Synod activities and answered delegates' questions, and the Rev. Dr. Paul Maier, LCMS third vice-president, preached at the convention worship service.
Posted June 12, 2012