By Kim Plummer Krull
LCMS Life and Health Ministries Director Maggie Karner drew multiple standing ovations when she spoke at the "Rally for Religious Liberty" March 27 at the Missouri Capitol in Jefferson City.
"It was great seeing all these people in red T-shirts," said Karner, referring to the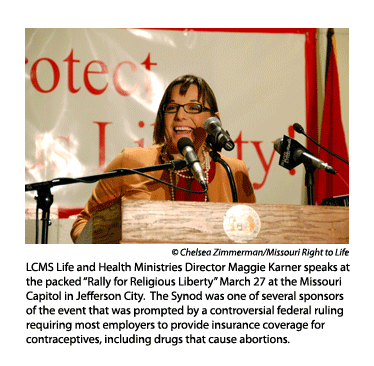 color promoted by rally sponsors to protest a federal regulation requiring most health plans to provide free coverage for contraceptives, including drugs that cause abortions.
Thousands of people, according to news reports, packed the Capitol rotunda for the rally sponsored by The Lutheran Church–Missouri Synod, Missouri Baptist Convention, Missouri Catholic Conference and Missouri Right to Life.
The crowd stood and cheered when Karner said that the ruling that prompted the rally is "not about women's issues at all."
"It concerns all of us American citizens and our constitutional rights," Karner said, as reported in the St. Louis Post-Dispatch.
As the only woman among the speakers, Karner said she felt a unique responsibility to address the controversial regulation by the U.S. Departments of Health and Human Services, Labor and Treasury, which addresses a topic that some label "a woman's issue."
"In today's culture, a man cannot freely say and would not feel comfortable saying that this is not a woman's issue," said Karner, whose fellow speakers included St. Louis Archbishop Robert Carlson and Missouri Baptist Convention Executive Director Dr. John Yeats.
The federal mandate "goes against the conscience of pro-life Christians," Karner said. "Because of the respect we as a church body have for the sanctity of human life, we cannot sanction the distribution and payment for these products that we feel take human life."
On a broader note, Karner said that the "heart of the issue with the mandate is that it has a very narrow definition for what the government sees as a church."
Employers are allowed to opt out of the mandate, Karner said, but generally only if they fit the very narrow definition of an organization that primarily ministers to and employs people with the same beliefs.
That's troubling, Karner said, to churches and to "many fine organizations that do wonderful charitable work on behalf of the church."
Karner noted that the rally took place as the U.S. Supreme Court continued to examine the health-care mandate and issues involving government authority and individual liberty.
"Never before has the government imposed such a narrow definition of what it sees as a church," Karner said.
Accompanying Karner in Jefferson City were Ann Stillman, vice-president and general counsel at Concordia Plan Services, and Deaconess Dorothy Krans, director of LCMS Recognized Service Organizations.
Kim Plummer Krull is a freelance writer and a member of St. Paul's Lutheran Church, Des Peres, Mo.
Posted March 28, 2012