By Kim Plummer Krull

Leaders of Lutheran Church–Canada (LCC) and the LCMS call their first joint visit to Haiti a promising first step in bringing together Haitian Lutherans to strengthen theological education in a country with a severe pastor shortage.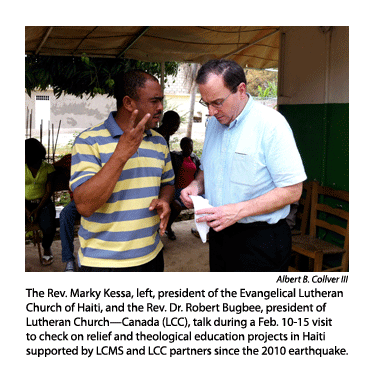 "Since the earthquake, Haiti has an even greater need for pastors," said the Rev. Dr. Albert B. Collver III, the Synod's director of Church Relations and assistant to LCMS President Rev. Dr. Matthew C. Harrison. "Some pastors, such as Evangelical Lutheran Church of Haiti (ELCH) President Marky Kessa, serve as many as five congregations." Cullver returned Feb. 15 from the Caribbean country.

LCC President Rev. Dr. Robert Bugbee calls theological education "the seed for Haitian Lutheran churches to propagate." "If those churches can develop the capacity to develop leaders, that is really so much better than [the LCC and LCMS] sending pastors there," said Bugbee. Haitian Lutherans "know their people better than we do; they know their languages better than we do."

Collver and Bugbee met with leaders of the ELCH, an LCMS partner church, and the Lutheran Church of Haiti (LCH).

As LCMS relief work winds down from the initial disaster response in Haiti, theological education will help equip pastors to reach out to both physical and spiritual needs, Collver said.

"The LCMS and LCC want to work together to encourage our congregations and mission societies to work together in a more coordinated fashion, to reduce duplication of efforts and increase accountability," he said.

The Synod has collaborated with both Haitian Lutheran church bodies on relief and rebuilding efforts since the 2010 quake that devastated the country. Many Canadian Lutherans support the Haiti Lutheran Mission Society of Canada, which has a long-standing relationship with the LCH.

The trip was the LCC president's first to Haiti. It was "a get-acquainted visit," Bugbee said, to meet with Kessa and LCH President Rev. Revenel Benoit and "learn how best to channel efforts" to develop one Lutheran theological education program to serve both Haitian church bodies.

The trek included a stop at the newly dedicated ELCH seminary in Leogane, built to support an aggressive seminary training effort and in conjunction with the Synod's Building Homes and Hope in Haiti (BHHH) program.

Ironically, a Voodoo center sits next to the new Lutheran seminary. Since the quake, growing numbers of Haitians continue to turn from Voodoo to Christianity, fueling a pastor shortage that began even before the catastrophe, said the Rev. Glenn F. Merritt, director of LCMS Disaster Response.

"A new seminary training program with a central building will help develop new Lutheran pastors to meet the needs of the people," said Merritt, who has coordinated several relief and rebuilding efforts in Haiti.

Instead of constructing a new seminary for the LCH, the Haitian, Canadian and American Lutheran leaders "all agreed in principle to have a single theological education program" in Haiti, Collver said.

Plans are in the works to develop a curriculum and identify pastors and professors from both the LCMS and LCC to serve as instructors. The seminary courses must serve a wide range of Haitian students' abilities. "Some [prospective students] have some formal education already, and some are working in the mountains and barely able to read," Bugbee explained.

The LCC president said his first visit to the Western Hemisphere's poorest country offered dramatic contrasts. "Everywhere, you see houses that are half-built, and you're not always sure if they fell down in the earthquake or someone started building and had to abandon them," Bugbee said.

On the other hand, he called visiting the Lutheran villages built by the LCMS and ELCH in Leogane and Jacmel through BHHH "very heartwarming."

Bugbee said he was encouraged to see those families in such a "nice environment" when there are still so many homeless people in tents — even living in "something less than tents, nothing more than sticks draped with a tarp."

"I know that the Missouri Synod, through its [LCMS] World Relief and Human Care, worked very hard to help build those villages," said the LCC president, complimenting the small but sturdily built homes painted in pastel colors.

Bugbee and Collver also visited projects supported by the LCH and the Haiti Lutheran Mission Society of Canada, including a water purification program and a home for abandoned boys in Gonaives.

Collver recalled how in January 2010, he and fellow LCMS leaders arrived in Haiti two weeks after the magnitude 7.0 quake that killed more than 300,000 and left hundreds of thousands homeless. Two years later, he said, he sees "remarkable improvement, but still a lot of work that needs to be done."

To help meet theological education needs in Haiti:
make a gift online (click here).
mail checks made out to LCMS World Mission (noting "Haiti" in the memo line) to LCMS World Mission, P.O. Box 790089, St. Louis, MO 63179-0089.
call toll-free 888-930-4438, ext. 2.
Kim Plummer Krull is a freelance writer and a member of St. Paul's Lutheran Church, Des Peres, Mo.
Posted Feb. 22, 2012