By Linda C. Hoops

The 72 career missionaries who serve The Lutheran Church–Missouri Synod by sharing the Gospel message with people in countries around the world have another task: Telling the story of their work — and God's work — to the church at-larg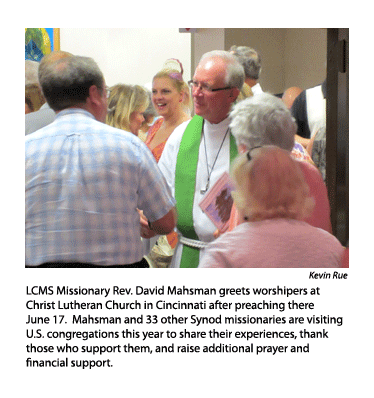 e through what is known as "home service."

Every two years, career missionaries return to the United States for a period of two to three months. In addition to reconnecting with LCMS staff at the International Center in St. Louis, they travel the country sharing their missionary experience and thanking all those who support them financially.

Between home-service periods, missionaries also may schedule shorter, two-week business trips that include many of the same activities. During 2012, there are 23 career missionaries on home service and 11 on shorter business trips.

When missionaries visit congregations, they typically give a presentation about their work during a worship service, Bible study, Sunday school or at Lutheran Women's Missionary League or men's meetings.

"These presentations allow the congregation's members and donors to hear about a missionary's work in the world, carried out on their behalf as a Synod," says Mark D. Hofman, executive director for Mission Advancement. "Often, a congregation is already supporting the missionary with prayer and financial support. Sometimes a congregation is exploring the possibility of partnering with a missionary, and the missionary's visit is an opportunity to learn what such a partnership might accomplish."

During their daylong visits at the Synod's International Center, missionaries work with staff in the Office of International Mission, Communications, Mission Advancement and Concordia Plan Services. They also provide an overview on their mission of "sharing the Good News."

While they are in the U.S., missionaries frequently add some vacation to their stay — for example, to spend time with extended family and friends, take care of medical and dental needs, and move children into college.

The Rev. David Mahsman, who serves as LCMS director of special assignments in Eurasia, is back in the United States for five weeks this summer to brief pastors and delegates attending district conventions on his work and to preach at a number of churches.

Mahsman's schedule, prior to his departure from Berlin, Germany, looked like this:
June 10 — Golden Valley Lutheran Church, Golden Valley (Twin Cities), Minn.
June 11-12 — South Wisconsin District convention, Mequon, Wis.
June 14-16 — Ohio District convention, Columbus, Ohio.
June 17 — Christ Lutheran Church, Cincinnati.
June 23 — Resurrection Lutheran Church, Cary, N.C. (6 p.m.).
June 24 — Ebenezer Lutheran Church, Greensboro, N.C. (services at 8:30 and 11 a.m., presentation at 9:45 a.m.).
June 28-29 — Indiana District convention, Fort Wayne, Ind.
June 30 — English District convention, St. Louis.
June 30 and July 1 — St. Paul's Lutheran Church, Des Peres, Mo.
July 7-8 — Lutheran Church of St. John, Quincy, Ill.
July 9 — Central Illinois District convention, Springfield, Ill.
July 15 — a congregation in St. Louis.
Mahsman, whose main assignment is to develop a Christian education and outreach center in Martin Luther's own city of Wittenberg, said the purpose of his preaching at so many churches "is first of all to proclaim the Gospel of Jesus Christ. When I, as a missionary, preach to U.S. congregations, I also encourage the congregation to reach out to others with the Good News — at home, as they go about their normal lives, through prayer, and by supporting missionaries with their prayers and with their financial resources."

Mahsman typically shares his work in Eurasia during a church's Bible class time, using a PowerPoint presentation. When there is no Bible class, which is sometimes the case during summer months, he speaks more about his work during the sermon. In the presentations he has given so far, congregations have included the Mahsmans' "prayer card" in their worship bulletin. The card provides information about Mahsman and his wife, Lois, their work and how interested Lutherans can support them. (To view the Mahsmans' or other missionaries' prayer cards, click here.)

Financial support for missionaries can come also through the Synod's efforts. Within the last couple of months, three congregations have decided to help fund the Mahsmans' work through the LCMS Together in Mission community, (click here for more information).
"I am very grateful for that!," Mahsman said. "I consider those who support us, whether individuals or congregations, to be our partners in the Gospel. I am serving in Eurasia on their behalf and I would not be able to serve without their prayers and financial support. I pray for them just as I hope they are praying for me. They are a blessing to Lois and me, and I want to be a blessing to them. We need each other!"
For more information about scheduling a missionary on home service to preach or give a presentation at a congregation, contact Karen Schultz at 800-248-1930, ext. 1344, or karen.schultz@lcms.org.

Linda C. Hoops is a freelance writer and a member of Lakeside Lutheran Church, Venice, Fla.
Posted June 20, 2012 / Updated June 22, 2012