LCMS ministry leaders have assured Lutheran leaders in Madagascar of disaster response assistance if such help is needed after Cyclone Giovanna pounded the African island nation Feb. 14.

As damage assessments continue, at least 16 people are reported killed and more than 10,000 forced from their homes.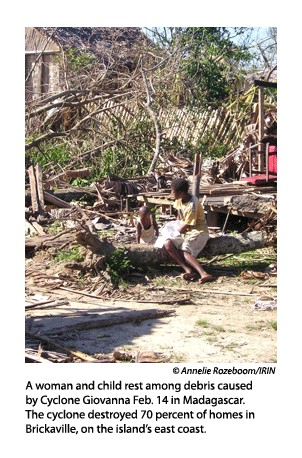 Dr. Mike Rodewald, regional director for Africa with the Synod's Office of International Mission, and the Rev. Glenn F. Merritt, director of LCMS Disaster Response, are in contact with Dr. Rakoto Endor Modeste, president of the Madagascar Lutheran Church (MLC), and Stephan Andriamamdrainirina, MLC disaster response coordinator.

The MLC is a growing church body with several seminaries and more than 4 million members. The nation, about the size of Texas, is among the world's poorest countries.

In 2004, LCMS World Relief and Human Care (WR-HC) awarded its first grant in Madagascar, to help repair cyclone damage at a seminary. More recently, WR-HC donors provided equipment and supplies for a new pediatric unit at Andrranomadio Lutheran Hospital. LCMS Mercy Medical Teams also have served in the country.

To learn more about LCMS Disaster Response, visit www.lcms.org/disaster.
Posted Feb. 22, 2012