Lutheran Education Association (LEA) has announced the eight recipients of its 2012 educator awards, including Dr. Jeffrey Burkart of St. Paul, Minn., for the top Christus Magister (Teacher of Christ) Award. In addition, the LCMS Recognized Service Organization has named three staff members of Immanuel Lutheran Ch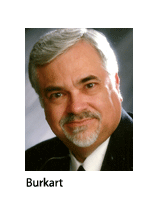 urch and Martin Luther School in Joplin, Mo., to receive its "Esther Award."

Burkart is professor emeritus, director of drama ministry, artist in residence and coordinator of special projects at Concordia University, St. Paul, Minn. He previously served at Martin Luther High School in Greendale, Wis.; St. John's Lutheran School and Church in Seward, Neb.; and Concordia University Nebraska, Seward.

He is the 54th LEA member to receive the Christus Magister Award since it was established in 1965. Considered to be LEA's most prestigious award, it is given to Lutheran educators who have made significant contributions to Lutheran education.

Burkart earned a Bachelor of Arts in elementary and secondary education from Concordia University Chicago, River Forest, Ill., in 1971; a Master of Arts in secondary education from the University of Nebraska at Lincoln (1977) and a Ph.D. in curriculum and instruction from the University of Minnesota at Minneapolis (1988). He was chosen as the Officium ab Ducere Alumnus of the Year (2004) by Lutheran High School North, Chicago, and was awarded the Doctor of Letters by Concordia University Chicago in 2005.

The Rev. Dr. Lane Seitz, president of the LCMS Minnesota South District, said about Burkhart: "Frankly, I do not know of anyone who has worked more tirelessly as a Lutheran educator than he has. Jeff … is the LCMS version of the Energizer Bunny — he just keeps going, and going, and going — joyfully serving … individual students, Concordia University, his congregation, the Minnesota South District and The Lutheran Church-Missouri Synod."

The Rev. Tom Ries, president of Concordia University, St. Paul, said Burkart "can best be described as a man who received an abundance of talents from the Master and spent a lifetime faithfully stewarding them in His service."

Reflecting on the honor, Burkart said, "My personal mission is to proclaim the Gospel of Christ in words and actions to everyone who I am blessed to meet and to teach people in every stage of life that our calling is to be who God has created us to be, namely, His forgiven, redeemed children, freed in Baptism to live our lives and use our gifts in faithful service to God in our family, congregation, our workplace and the world."

The other 2012 LEA educator awards and recipients are:
Distinguished Lutheran Elementary Teacher — Scott Huster, a seventh-grade teacher at Trinity Lutheran School, Tinley Park, Ill.
Distinguished Lutheran Elementary Administrator — Glenn Steinbrenner, principal at Immanuel Lutheran School, Batavia, Ill.
Outstanding New Lutheran Early Childhood Teacher — Melanie Heggemeier, a preschool teacher at Trinity Lutheran School, Davenport, Iowa.
Distinguished Lutheran Early Childhood Administrator — Lisa O'Brien, an early childhood administrator at Shepherd of the Desert Lutheran School, Scottsdale, Ariz.
Distinguished Lutheran Secondary Educator — Carol Frey, a classroom instructor at Baltimore Lutheran School, Towson, Md.
Distinguished Lutheran Early Childhood Teacher — Julie Faulkner, a kindergarten teacher at Trinity Lutheran School, Wausau, Wis.
Leader in Outreach — Dr. Allan Schmidt, LCMS school developer for Buena Vista Concordia International School, Shenzhen, China.
The staff members of Immanuel Lutheran Church and Martin Luther School, in Joplin, receiving the Esther Award are Principal Jeremy Schamber, Director of Christian Education Jason Glaskey and the Rev. Gregory Mech. The award is for their outstanding service after the devastating tornado struck Joplin May 22, 2011.

The Esther Award honors exemplary and dedicated leadership and perseverance on behalf of Lutheran education in times of trial and tragedy. It is named for Esther, the faithful Jewish refugee who became queen of Persia in the Old Testament, and whose courage and resourcefulness saved the Jewish people from destruction.

"Shortly after the tornado struck, the staff at Martin Luther School and Immanuel Lutheran Church began serving the community through administrative services, relief coordination, counseling and financial aid," according to an LEA news release. "Their action was swift and directly responsive to the needs of suffering people. In the weeks and months following the disaster, they continued to lead relief efforts for victims of the storm."
LEA members may submit nominations for the Christus Magister Award. Nominations for the seven other educator awards come from peers within each profession, with awardees selected by each peer group's Network Leadership Team, in consultation with LEA staff. Esther award recipients are chosen by the LEA staff.
Posted Feb. 17, 2012