Roberta "Bobbie" Lautenschlager, executive director of Lutherans in Medical Missions (LIMM), died Aug. 18, surrounded by loved ones at her home in St. Louis. Lautenschlager, 68, died of non-smoker's small-cell lung cancer, which was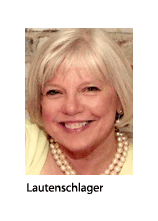 diagnosed in March.

A memorial service is planned for 10:30 a.m. on Saturday, Sept. 8, at Historic Trinity Lutheran Church, 1805 S. 8th St. in the Soulard area of St. Louis. The family will be available to greet visitors from 9:30 to 10:30 a.m. that day at the church. Lautenschlager donated her body to science.

Lautenschlager had served as executive director of LIMM since 2005, and as chairman of the LIMM board of directors for two years prior to that. LIMM, an LCMS Recognized Service Organization, links health professionals to medical mission needs worldwide.

She took a medical leave of absence from her LIMM position Aug. 1, and at that time the organization's board of directors appointed Rita Nickel of St. Augustine, Fla., as interim executive director. Nickel will continue in that role until a permanent successor is named.

"Bobbie was a dear friend and truly the heart of LIMM," Nickel told Reporter. "It is one of the greatest privileges of my life to have known her. I will miss her immensely, but I know in the blink of an eye we will be together again forever."
Lautenschlager, an R.N., and her husband, Dr. John Lautenschlager, a physician, served as medical missionaries for some 20 years in West Africa — from 1970 to 1985 in Nigeria, and from 1985 to 1989 in Sierra Leone.
As a medical missionary in sub-Saharan Africa, Bobbie Lautenschlager "saw firsthand the devastating effects of malaria and was an avid supporter of the Lutheran Malaria Initiative" (LMI), said Martha J. Mitkos, the LCMS director of LMI. "She worked tirelessly to mobilize local congregations" and served as a member of the National Campaign Cabinet for LMI, Mitkos added.
LMI — a partnership of the LCMS and Lutheran World Relief, Baltimore — seeks to mobilize U.S. Lutherans in the global effort to eliminate malaria deaths in Africa by 2015.
The Rev. David Marth, senior pastor of Historic Trinity, said "Bobbie was blessed by God with a global vision to bring Jesus into the lives of all people, and it was matched by her servant-mission heart that cared for those in need physically and spiritually."
For the past 16 years Lautenschlager was involved in the film industry as a screenwriter and producer.

In his essay "Remembering Bobbie" on the www.zekefilm.org website, St. Louis film critic Jim Tudor called Lautenschlager the "Grand Matriarch of St. Louis filmmaking," and recalled her "warmth, goodness and generosity."

Lautenschlager "was the kind of person who seemed to know everyone, her home always open, even in these final days," Tudor wrote. "Her Christian faith guided her and grounded her, whether in her previous time as a long-term missionary in Africa, or in her later decades, as her focus expanded to the unlikely world of filmmaking — so many aspects: writing, producing, finessing, connecting, sharing. Always smiling, always honest, always happy to see you."

In addition to her husband, survivors include two children — David (Angela) Lautenschlager of St. Louis, and Katy (Owen) Fine of Kingston, Jamaica — and five grandchildren.
Memorials may be made to the Lutheran Malaria Initiative; the St. Louis International Film Festival; and Historic Trinity Lutheran Church, St. Louis.
Posted Aug. 21, 2012 / Updated Aug. 22, 2012 / Updated Aug. 23, 2012