Several Lutheran ministries are offering free devotions for Advent, the season of preparation for Christmas that begins on Dec. 2 this year and ends on Christmas Eve.
Lutheran Hour Ministries (LHM), St. Louis, is offering two new sets of Advent devotions — English and Spanish — for this year.
"Christmas Memories" is based on the biblical account of Luke, Chapters 1 and 2, and in particular, the observations of Jesus' mother, Mary.

"Just as we all have cherished memories of Christmases past, Mary shares her treasured memories of the first Christmas, relating the events to Luke to include in his Gospel," explains the devotions' author, the Rev. Wayne Palmer, theological editor and writer for LHM.

"As a pastor, one of my favorite things was to ask our elderly members to share their childhood memories of Christmas," Palmer said. "Searching their memory always brought a twinkle to their eyes, and it was delightful to listen to their laughter, as they pulled out the treasures which had sat in the attic of their memory, gathering dust."

Hearing these stories from his congregation's older members influenced Palmer's approach to this year's Advent devotions: "I want to bring alive the events of that first Christmas through the recollections of a very special woman of faith who 'treasured up all these things, pondering them in her heart [Luke 2:19b],'" he said.

Beginning Dec. 2, "Christmas Memories" will be available online to read or to hear as a podcast. The free devotions also may be received daily via email subscription throughout the Advent season. For information, visit www.adventdevotions.net.

"Santo es su Nombre" (Holy is His Name) is not a translation but was w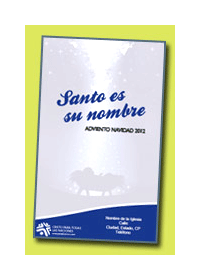 ritten in Spanish by Mark "Marcos" Kempff, an instructor at the Center for Hispanic Studies at Concordia Seminary, St. Louis.

Kempff says the devotions focus on "the joy and peace of the Christmas story" while seeing Advent as "a time to read, examine and meditate on Scripture."

"It is like 'looking into God's heart,' seeing there the manger and the cross — our joy and our peace," he told Reporter. "This encourages us as we end a year and gives us hope and enthusiasm for the new year."

To read or download "Santo es su Nombre," visit www.paraelcamino.com/adviento.
Lutheran Indian Ministries (LIM), an LCMS Recognized Service Organization based in Brookfield, Wis., offers an Advent devotional booklet each year. The devotions, written primarily by LIM's Native staff, offer readers of all cultures perspectives on the significance of Christmas, evangelism and witness.
LIM is focused on proclaiming the Gospel of Jesus Christ among American Indian, Alaska Native and "First Nations" people, and seeks to build up the leadership capacity of Native people so they can make a difference in their communities for Christ.

"God has been doing great things among Native people," said the Rev. Dr. Don W. Johnson, LIM executive director. "He's been raising up Christian leadership from within. After decades — centuries, even — of misunderstanding Christianity as a 'white man's religion,' Native men and women are working hard to share the message of Jesus Christ among their own people."

To download a PDF of LIM's 2012 Advent devotional booklet — or order quantities for congregational use — visit www.lutheranindianministries.org/resources. For more information or to request copies, call 888-783-5267.
LCMS School Ministry is offering supplementary Chapel Talks for Lutheran Schools for Advent 2012. The resource is designed for use in the Synod's early childhood centers and elementary schools nationwide.
To download the free Advent Chapel Talks, click here. For more information, contact the School Ministry office at 800-248-1930, Ext. 1285.
More Advent and Christmas resources — including books from Concordia Publishing House (CPH) — may be viewed and ordered online at www.lcms.org/christmas-advent-resources. Or, visit the CPH website at www.cph.org. To speak with a CPH representative, call 800-325-3040.
Posted Nov. 29, 2012