By Adriane Dorr
The Lutheran Witness is older than time … Time magazine, that is. Published prior even to the creation of National Geographic, the first issue of the Synod's official publication was produced in Ma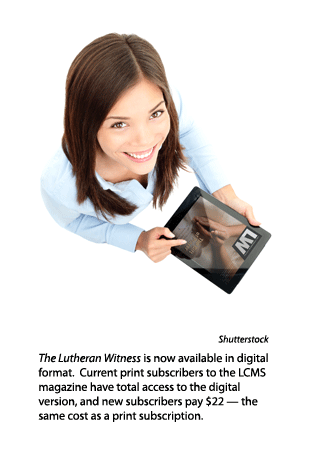 y 1882. Then, the magazine's mission was to "to bring home to Americans the solid and sound doctrinal and practical truths expounded by the Lutheran Church."
Today, after 130 years of continuous print publication, the mission remains the same. In each issue of the magazine, authors write to unpack the profound truths of the Scriptures, to encourage joy in one's Christian life, to more fully understand Christ's gifts given in worship and the church year, to delve into faithful catechesis, to learn more about the church body's mission and ministries and to foster personal growth in the faith.
One thing, however, has changed since 1882. Beyond the recently refreshed look and feel of the magazine, the publication is now available in digital format. Starting Sept. 1, subscribers can read the Synod's official periodical on their digital platforms.
The September issue of the magazine — which features a special report on the state of the Synod — is available for free download. Beyond that, subscribers who already receive the print magazine will have free and complete access to the digital version of the publication.
New individual subscribers to the digital version will pay $22, the same yearly cost as a print subscription. All other subscribers who receive the magazine either through the district subscription or congregation subscription models can access the digital magazine for $3.99 per year.
Subscriptions may be ordered by going to www.cph.org/witness, emailing LWsubscriptions@cph.org or calling 800-325-3040 and pressing Option 2.
"No congregation should be satisfied until there is a Witness in every home," wrote the magazine's editor in 1941. With the help of both digital and print media, the magazine can now find its way into each of those LCMS homes and districts so that the Gospel it bears and the insight it brings may continue to edify the Church at-large.
Adriane Dorr is managing editor of The Lutheran Witness.
Posted Sept. 12, 2012