By Emily Barlean
The Lutheran Witness — the flagship magazine of the LCMS — is adapting and growing into the 21st century with the introduction of its new digital edition.
"Just as the printing press spread Dr. Luther's explanation of the faith in the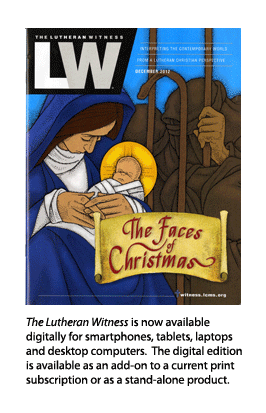 16th century, we're certain digital media will do the same for the Church today," says the Rev. Dr. Matthew C. Harrison, president of the LCMS.
The digital edition provides readers with new features and benefits. Primarily, the magazine will now be instantly available to any subscriber in any location. The digital format will function on most devices, including smartphones, tablets, laptops and desktop computers.
The new edition is designed to enhance reading with added zooming and scrolling capabilities. Plus, links are now "clickable," in order to simplify browsing for readers.
The Lutheran Witness team also plans to further enhance the digital format by adding bonus content such as videos and motion graphics.
The digital edition is available as an add-on to a current print subscription or as a stand-alone product.
Visit www.cph.org/witness to browse the Synod's financial-report edition for free. Call Concordia Publishing House's customer-service team at 800-325-3040 with questions or to subscribe. For subscription prices, visit the Web address or call.
"We're positive that this new platform will achieve big things," says Harrison. "We're eager to see how the Lord will use this form of the magazine to assist our global partner churches, who can now instantly access and share the Good News found in the magazine."
CPH also has announced the release of a mobile application that delivers The Lutheran Witness as a digital reading experience for iPad, iPhone and iPod Touch portable devices. This app is the latest innovation to come out of the Emerging Products division of CPH.
While the online edition allows readers to enjoy the magazine with an Internet connection, the app makes it possible to save the magazine and review its content regardless of Internet connectivity. To download the app, visit the iTunes app store or go to www.cph.org/witness.
Emily Barlean is Concordia Publishing House's senior public relations specialist.
Posted Dec. 27, 2012