The Lutheran Women's Missionary League 2013 Prayer Service is now available for free download on the LWML website.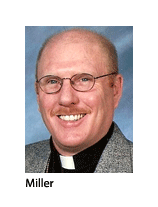 The service, titled "Joyful, Joyful," is based on James 5:13-16 and was written by the Rev. Larry A. Miller, pastor of First Lutheran Church and School in Helena, Mont. Miller served the LWML as pastoral counselor from 2003 to 2007, and also has been in district and zone counselor positions. His wife, Shari Miller, has served the auxiliary in local and national positions, and has written numerous LWML resources.
The 2013 Prayer Service is designed to "provide opportunities for adoration, confession, thanksgiving and supplication to our gracious God for the joys and needs of His people, with the sure faith that He will answer according to His will," according to an LWML news release. "Participants will grow in their faith in Jesus Christ, their Savior, as they hear, read and believe His Word and sing, praise and pray to the Lord."
The service has been approved by the LCMS doctrinal-review process for use in congregations and LWML groups.
"January or February would be a great time to use the prayer service, after the busy Advent and Christmas seasons," said LWML President Kay Kreklau.
To download the free resource, visit www.lwml.org/events and click on "Prayer Service 2013" under the "More Info" tab.
Posted Dec. 27, 2012