The Lutheran Women's Missionary League Christmas card for 2012 depicts Advent, Christmas and Epiphany.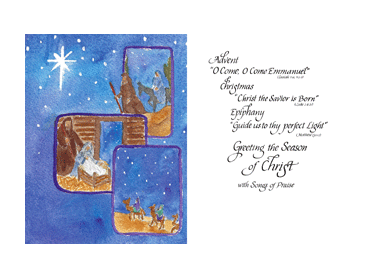 The inside of the card features quotes from three corresponding Christmas carols — "O Come, O Come Emmanuel," "Christ the Savior is Born" and "We Three Kings" — along with the Bible verses they are taken from.
The card was designed by St. Louis artist Judy Newell.

To order the cards (order no. 16520-20, $6.50 for set of 10 cards and envelopes), click here or call the LWML at 800-252-5965. Price quoted does not include shipping.
Posted Dec. 11, 2012