LCMS Michigan District President Rev. Dr. David P.E. Maier, 56, of Whitmore Lake, Mich., was elected to a second term during the district's 100th regular convention, June 24-27 at Concordia University, Ann Arbor, Mich.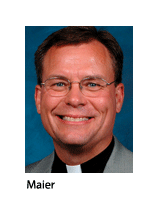 Also elected were:
the Rev. Mark D. Brandt, administrative pastor of St. Lorenz Lutheran Church, Frankenmuth, Mich., first vice-president.
the Rev. Donald O. Neuendorf, senior pastor of St. Paul Lutheran Church, Ann Arbor, Mich., second vice-president.
the Rev. David A. Davis, pastor of St. Luke Lutheran Church, Haslet, Mich., third vice-president.
the Rev. John M. Duerr, pastor of Hope Lutheran Church, Warren, Mich., fourth vice-president.
The elected officers were installed at the convention. Also installed was the Rev. Christopher Bodley, district missionary at-large, who will lead the A2E Urban Ministry Initiative in Detroit.

"Living as God's Forgiven and Forgiving Family," based on Eph. 3:20-21, was the convention theme, highlighting the third part of the Synod's "Witness, Mercy, Life Together" emphasis.

Among resolutions adopted, delegates voted to:
encourage and educate voters before national and state elections, recognizing "God-given duties as citizens," calling for continual prayer for those in government authority and directing the district president to prepare or make available Bible studies and information pertaining to issues confronting the nation.
emphasize marriage and family, asking the Synod to continue to provide during the next triennium "a clear and emphatic witness" to the teaching of Scripture concerning marriage and the family.
commend the district president for his leadership in helping congregations to minister during changing and difficult times, encourage congregations to use services provided by the district, and encourage congregations to contribute financially to support the ministries of both the district and the national Synod.
demonstrate recognition of and support for all life by encouraging foster care and adoption.
commend the affiliation of Concordia University, Ann Arbor, and Concordia University Wisconsin, Mequon, Wis.
commend the partnership of Lutheran Homes of Michigan and Lutheran Child and Family Services of Michigan.
For more information, including a convention photo gallery and videos, visit www.michigandistrict.org/convention/.
Posted July 5, 2012