Mark Kreklau, husband of Lutheran Women's Missionary League President Kay Kreklau, died June 13 at Altru Hospital in Grand Forks, N.D., with his family by his side. Kreklau, 70, died of recently diagnosed lung cancer.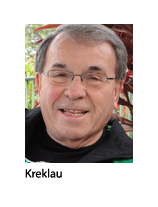 A celebration of his life was held June 18 at Immanuel Lutheran Church in Grand Forks, N.D.
At the time of his death, Kreklau was a vice-president for KodaBank in Drayton. He was an elder at Trinity Lutheran Church, Drayton, and was involved in the local Lutheran Laymen's League, LWML and mission projects. He also served several terms as a member of the LCMS North Dakota District Board of Directors.

His pastor, the Rev. Bernhard Seter, who also serves as chairman of the Synod's Board for International Mission, described Kreklau as an encourager. "He was always interested in helping with the work of the church in whatever way he could," Seter said. "As an elder who helped me distribute Communion and would commune me, his words as he left the altar area will be with me until I meet him in the Church Triumphant — 'Jesus loves you, my friend.' "

Besides his wife of 39 years, Kay, who began serving as LWML president last June, Mark Kreklau is survived by five children — Rennie (Davis Woinarowicz) Hallstrom of Drayton; Lisa (Deon) Anderson of Grafton, N.D.; Christopher of Portal, N.D.; Nicole Larson of Drayton; and Leah (Tim) Ososki of Drayton — five grandchildren and two great-grandchildren. He was preceded in death by a daughter, Tonia Noel Kreklau, and a granddaughter, Addison Grace Kreklau.

Memorials may be sent to the Lutheran Women's Missionary League and North Dakota Hospice.
Posted June 15, 2012 / Updated June 18, 2012