By Linda C. Hoops
The number of Missouri Synod congregations that reported their annual statistics increased from 3,953 for 2010 to 5,289 (from 64 percent to 86 percent) for 2011.
The 22 percent increase in congregations submitting reports provided better statistical information and an improved snapshot of the Synod compared with past years, explained the Rev. Dr. Raymond Hartwig, secretary of the Synod.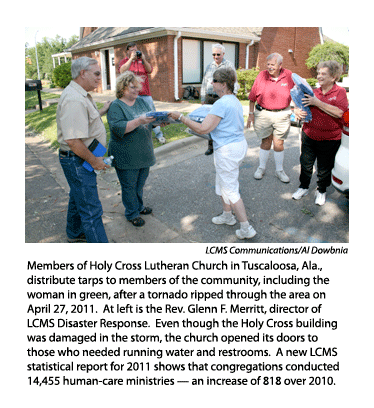 "Having statistics from more congregations provides a better understanding of what takes place in congregations as a whole," he said. "While a greater effort was made to obtain these reports, it may also be that the 2010 convention's bylaw change declaring these reports to be 'expectations of membership' is prompting more congregations to respond."
While the 2011 report shows a slight (2.05 percentage) loss in overall membership, it also highlights an increase in official acts, such as Baptisms and confirmations.
In 2011, congregations reported that:
28,627 children were baptized (up 5,163).
20,883 teenagers were confirmed (up 3,113).
15,770 adults were confirmed (up 3,549).
The number of professions of faith ("lapsed" members reinstated into membership) increased by 1,480 (14.62 percent) to 11,604, but the number of "back-door losses" — adults removed from congregational rosters (for reasons other than death or transfer) — increased by 7,080 (19.6 percent), to 43,209. Overall, baptized membership fell by 46,728 (to 2,231,858) and confirmed membership decreased by 32,502 (to 1,731,522).
The report also shows members' contributions increased by 1.9 percent, with the average congregation reporting that its income from all sources exceeded its expenses, despite the recent recession and rising costs.
In 2011, LCMS members gave their congregations $1,376,155,314, up $371,099 in total contributions. Giving for local expenses increased by $1.25 million (0.10 percent) to $1,255,443,938 and the average amount given per-communicant member was $795, an increase of $15 from the previous year.
The number of member congregations in 2011 fell by 13 (to 6,145), although the long-term trend over the last several decades shows that the total number of congregations has not decreased in that span of time, according to Gene Weeke, director of Business Services for the Synod, in a review of the report at the Synod's Board of Directors August meeting.
"It appears that closing congregations does not significantly impact the overall number of members," he added. "In other words, significant declines in membership are not due to church closures." He also said that there are numerous opportunities for mission and growth as the LCMS currently has no congregations in 28 of the 100 fastest growing U.S. counties, as identified by the 2010 census.
The report shows that the number of ordained clergy serving in parishes was up by 195, to 5,564. The number of clergy serving in other capacities fell by 51 to 579, while the number of retired clergy decreased by 192, to 2,736.
The average attendance at weekly worship reported in 2011 was 141, compared with 153 in 2010.
The increase in the number of "specialized ministries" reported by congregations was another positive note in the report, as congregations indicated that they conducted 45,063 such ministries in 2011 (up 1,950 from the previous year).
These included 19,381 "education ministries" (up 477); 14,455 "human care" efforts (up 818); 7,061 "media efforts" (up 405); and 4,166 (up 250) "special-needs ministries," such as among the developmentally disabled, the elderly and armed forces personnel.
Some 443 congregations reported providing 909 "specialized worship services," including 308 (up 25) serving language or ethnic needs, and 601 (up 29) to serve those who are vision- or hearing-impaired.
The report showed that both the number of Sunday-school classes and the number of students attending those classes decreased. Congregations reported the following in regard to Sunday schools:
4,893 Sunday schools (down 51).
355,945 enrolled in Sunday schools (down 7,444).
1,185 weekday religion classes (down 3).
82,655 students in weekday religion classes (down 1,544).
18,940 non-members in weekday religion classes (down 1,304).
3,520 vacation Bible schools (down 42).
Statistical report forms are sent annually to all congregations in January to report data from the previous year. Results are compiled from February through May by the LCMS Office of Rosters and Statistics.
Statistical information for 2011 will be included in the 2013 Lutheran Annual, available by year's end from Concordia Publishing House.
Linda C. Hoops is a freelance writer and a member of Lakeside Lutheran Church, Venice, Fla.
Posted Oct. 12, 2012