By Paula Schlueter Ross

A Jan. 10 memorial service for Margaret Anderson, who was killed while on duty Jan. 1 by a gunman in Washington's Mount Rainier National Park, drew thousands of mourners, according to news reports.
Speaking at the service, Anderson's father, LCMS Pastor Rev. Paul Kritsch, said his daughter became a law enforcement officer with the National Park Service because she wanted to help people, and she put herself in the way of evil on New Year's Day because of her deep religious faith and love for others, according to the AP story by Phuong Le.
The service at Pacific Lutheran University, Tacoma, Wash., was preceded by a procession of law enforcement vehicles, ambulances and fire trucks. Hundreds of rangers, officers and others saluted as the slain officer's family followed her flag-draped casket into the university's auditorium.
"We know that our nation has lost a good and brave ranger," said Interior Secretary Ken Salazar, and he read aloud a letter offering condolences from President Barack Obama.
Kritsch, pastor of Redeemer Lutheran Church in Westfield, N.J., has said his daughter was living her dream.

Margaret and her husband, Eric, also a ranger at the park, had wanted to work together for a long time, Kritsch told The Seattle Times. The couple got that opportunity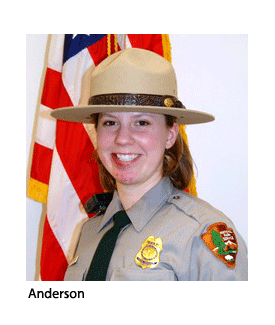 about four years ago when they began working at Mount Rainier.

Kritsch, who also serves as first vice-president of the LCMS New Jersey District, said the death of the youngest of his three children "doesn't seem real." He told the newspaper Margaret was " 'very good' at her job and liked being a 'good friend' and 'good neighbor,' who loved people and 'made everybody safer.'

"We're going to miss her terribly and … can't believe she is gone."

The Seattle Times also quoted Mount Rainier spokesman Kevin Bacher, who described Anderson as "very personable, very friendly, always [had] a smile for everyone."

The Andersons, of Eatonville, Wash., have two daughters, ages 3 and 1.

Margaret Anderson, 34, was shot and killed after she and another ranger attempted to stop a vehicle driven by suspect Benjamin Colton Barnes, a 24-year-old Army veteran. Barnes, who fled on foot, was found dead in a river in the park Jan. 2. He also is a suspect in a Jan. 1 shooting in Skyway, Wash., that left four people wounded.
The Rev. Jim Buckman, a missionary with the LCMS New Jersey District and a member of Redeemer, Westfield, where Kritsch is pastor, visited with the grieving pastor and his wife, Dorothy, the night of the shooting.

"I was really struck by their faith — they are both very strong Christians," Buckman told Reporter. "But I think that their daughter's faith was even more important to them in that situation because they know where their daughter is — and that is a tremendous gift to them."

Buckman said the Kritsches were "very appreciative of everyone's prayers" and handled questions from the media "incredibly well."

Although Buckman didn't know Margaret, he shared some insights about her from her parents and others in the congregation. Working outdoors, with her husband, "was something that meant everything to her," Buckman said.

Anderson took her job "very seriously" and, as a member of a search-and-rescue squad, "had rescued many people" and had helped recover bodies. "This was not the first time she had risked her life for others, by any means," Buckman said.

Some 400 people attended a special "service of healing" Jan. 4 at Redeemer Lutheran Church. Among them was a Jewish woman who said she was there because "I am a mother, too," said Buckman, who preached.
Anderson, he said, was not a "teaching" park ranger, as many are, but was a law-enforcement ranger, one of 28 — and one of only three women — who have been killed in the line of duty nationwide.
Although she had a deep love for family and friends, she also had "an extravagant love," a life-giving love, from Jesus, who did not come into the world to condemn it but to save it, Buckman said.
"Thank God that Jesus died for sinners like you and I and also Benjamin Barnes" (the shooter), just as while on the cross Jesus reached out to two criminals "with the offer of heaven."
As a ranger, Buckman added, Anderson "epitomized the vocation of the priesthood of all believers. She needed no ordination to be a light in the darkness. Her vestments were her uniform, her pulpit was a park with tens of thousands of acres, and her congregation was the countless souls who came every year."
The Redeemer congregation is collecting cards and condolences for the slain ranger's family and has started a college fund for the Andersons' two young daughters. Cards and contributions may be sent to Redeemer Lutheran Church, 229 Cowperthwaite Place, Westfield, NJ 07090-4015 (if sending a check, please make it payable to "Redeemer Lutheran Church" and note "Margaret Kritsch Anderson" in the memo line).
To make a donation to the National Park Foundation's fund to benefit the Anderson children, click here.
(Photo courtesy National Park Service)
Posted Jan. 3, 2012. Updated Jan. 4, 2012; Jan. 9, 2012; Jan. 9, 2012; Jan. 12, 2012; and Jan. 17, 2012.