Americans have a day for giving thanks, followed by two for getting deals: "Black Friday" on Nov. 23 and "Cyber Monday" on Nov. 26.

Wouldn't it be great to have a day for giving back?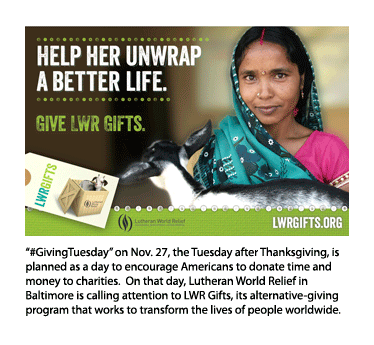 This year a group of charities and corporate sponsors is launching "#GivingTuesday" on Nov. 27, the Tuesday after Thanksgiving, as an opportunity to help others.

"We have two days that are good for the economy. Here is a new day that is good for the soul," said Henry Timms of 92nd Street Y in New York City, which came up with the idea for #GivingTuesday.

The goal is to encourage people to donate time and money to charities — which have been hard-hit by the recession — "with the same enthusiasm that shoppers have on Black Friday," according to USA Today.

The Rev. Dr. John Nunes, president and CEO of Lutheran World Relief, Baltimore, is helping to promote the first #GivingTuesday by writing an opinion piece for the Huffington Post's Nov. 19 "Huff Post Impact" blog (click here).

In the blog, titled "Let's Create a Culture of Giving," Nunes writes that he believes that while many Americans "suffer from 'affluenza,' the disease of prosperity and consumerism," humans also are "built for generosity" and don't hesitate to help those who need it.

He encourages readers to create "concentric circles of compassion" by first "practicing generosity toward yourself — not by buying yourself a gift, but by cutting yourself a break," such as getting eight hours of sleep or taking a day off work. "Then widen the circle," he says, to include good deeds for neighbors, support for a local nonprofit and assistance to those living in poverty overseas.

"It doesn't matter how much you give, and I think it's actually smart to start small," Nunes says. "Test it out. Every generous action, every gift, makes an impact — an impact on our own well-being as well as an impact on the world.

"That's why I'm so excited about the concept of Giving Tuesday — a day when, collectively, we as a nation practice generosity, creating a culture of giving rather than a culture of getting."

Nunes and Lutheran World Relief (LWR) are encouraging Lutherans to take part in #GivingTuesday.

LWR is using the campaign to emphasize LWR Gifts, the alternative-giving program that enables givers to provide farm animals, school supplies, water filters, fruit-tree seedlings and other items that can transform the lives of people worldwide.

Lutherans who participate in social media are invited to Tweet, post and share about LWR and LWR Gifts by using the hash tag #GivingTuesday to connect their friends and social networks with the campaign.

To learn more about #GivingTuesday, visit www.givingtuesday.org; for information about LWR Gifts, go to www.lwrgifts.org.
Posted Nov. 21, 2012