By Paula Schlueter Ross

It's never been done on such a large scale in The Lutheran Church–Missouri Synod, but that doesn't mean it can't be done: a thriving Lutheran university offering a helping hand to a struggling sister school in another state.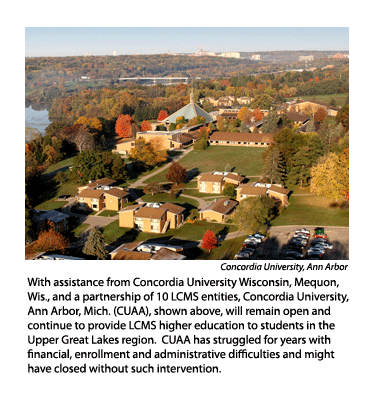 But all parties — and there are a lot of them — involved in a unique alliance between Concordia University Wisconsin, Mequon, Wis., and Concordia University, Ann Arbor, Mich., seem to believe that the new "affiliation agreement" between the two schools is a fine idea.

For example, the Boards of Regents at each school and the LCMS Board of Directors (two-thirds majority votes were required from all three to proceed) not only approved the concept, but all voted unanimously in favor of it.

That's "a truly historic event," according to Dr. Alan W. Borcherding, interim president of the Concordia University System (CUS), and "shows our Synod leaders working together to achieve something very difficult and complex." The CUS includes 10 LCMS colleges and universities nationwide, including those at Mequon and Ann Arbor.

The new legal relationship is seen as beneficial to both schools: Concordia, Mequon (CUW), will broaden its reach into a new geographical area, and Concordia, Ann Arbor (CUAA) — which has struggled for years with financial, enrollment and administrative difficulties — will remain open and continue to provide LCMS higher education to students in the Upper Great Lakes region.

"From our perspective, the relationship is necessary because of the importance of maintaining our Lutheran higher-education presence in such an important geographic and demographic region," explains CUW President Dr. Patrick Ferry. "Lots of LCMS families live in the fairly near orbit of Concordia, Ann Arbor … and the mission there is a vital one."

Ferry added that he believes the new affiliation between the two universities will "enhance and expand our own [CUW] mission, interest and endeavors from what we're doing already."

Receiving such an overwhelming stamp of approval from the two Boards of Regents and the LCMS Board of Directors gives the first green light to a long-range plan that includes:
keeping both schools operating in their respective locations, but under the auspices of one Board of Regents: the CUW Board of Regents. A "Board of Overseers" will be appointed to handle certain CUAA matters locally.

Likewise, both schools will be led by one president: CUW President Ferry, who will spend time on both campuses. The plan calls for two leaders at CUAA who will report to Ferry: a chief academic officer, who will handle all academic matters on the Ann Arbor campus, and a chief operating officer, who will be responsible for all non-academic matters there.

restructuring the schools and divisions at CUAA to mirror those at CUW, with a "common core of coursework" for general studies at both universities. CUAA already has adopted CUW's academic calendar and daily schedule for 2012-13, and some CUAA students are taking CUW classes (in subjects not offered at CUAA) through "e-learning." In the new structure, both universities would offer programs in Schools of Education, Business, and Arts and Sciences.

In addition, the Michigan marketplace will be studied to determine which programs are sought by graduating high-school students. If those sought-after programs aren't offered at CUAA but are offered at CUW, the CUW programs will be replicated at CUAA. One example of this is a Sports Management and Entertainment program — replicated from CUW — that is now being offered at CUAA.

And just as CUW has established off-campus sites that offer courses for nontraditional students, CUAA will establish off-site "classrooms" in other Michigan cities. In the area of online learning, CUAA will tap into CUW's expertise and resources rather than duplicate them.

Each university will continue to have its own faculty and accreditation process, and CUAA graduates will have "Concordia University — Ann Arbor" listed on their diplomas.

handling each university's individual print pieces, advertising, social-media presence and branding through one marketing department that operates under the direction of the CUW vice-president of Marketing. One staff member on the CUAA campus will handle local media relations. The CUAA website also will be redesigned to make it more user-friendly.
developing a new master plan and strategic plan for CUAA, which will include renovations of dormitories, the gym and the science building, as well as new sidewalks and landscaping.
a new capital campaign to raise funds for CUAA. The campaign is expected to be launched this year in conjunction with the university's 50th anniversary.
Although plans are proceeding — CUW already is assisting CUAA with such things as enrollment strategy, recruitment, retention, marketing and strategic planning — the new affiliation will not be official until the accrediting agency for both schools gives its approval. That isn't expected until sometime in 2013, likely by spring.

When that approval is received from the North Central Association's Higher Learning Commission, Ferry will become president of both universities and other aspects of the new relationship will fall into place.

In the meantime, Ferry says the two schools will continue to find ways to collaborate.

He's "grateful," he says, "for the Synod's interest and support." Concordia, Ann Arbor, "was in a very precarious situation" financially, and "despite everyone's best efforts" the university "likely would have closed if it followed the same trajectory without some intervention."

Ferry said he's hopeful that "this is a situation that we can look at and say, 'It was a struggle, but by everybody pulling together we've come up with a creative solution to a difficult problem' that we'll all be very pleased with as it unfolds further."

Borcherding called the venture a "huge cooperative effort" in which "literally hundreds of board and staff members representing 10 Synod entities" — including the Synod's English, Indiana, Michigan and Ohio Districts — "worked hard" to make happen. And he thanked "everyone involved, especially Mr. Curtis Pohl and Mr. Allen Prochnow, who worked very hard behind the scenes, and the LCMS Commission on Constitutional Matters, who met for many hours to assist with preparation of the documents." Pohl is chairman of the LCMS Board of Directors' Audit Committee, and Prochnow is executive vice-president and chief operating officer for Concordia, Mequon.

"The BOD is very pleased that these two Board of Regents could work together to create this affiliation," said Pohl. "This is a very positive event that has occurred for our university system and for our Synod."

Randall W. Luecke, CUAA acting president and chief financial officer, told Reporter "it has been an incredible experience to watch the hand of God as He brought the leadership of Concordia University Wisconsin; the Michigan, Ohio, Indiana and English Districts; and The Lutheran Church–Missouri Synod to an arrangement whereby God's mission can be continued here at Concordia University, Ann Arbor.

"With His grace and blessings, we will strive to continue to prepare young men and women for a lifetime of service to the church and to the world!"

The Rev. Dr. David P.E. Maier, president of the Synod's Michigan District, in which CUAA is located, calls the venture "a true blessing from the Lord" and believes "God has a marvelous future in mind."

Maier says he's all for the CUW-CUAA partnership because it keeps "a conservative, biblically-based college in the heart of one of the most liberal areas in the country, Ann Arbor," and, "more importantly, it demonstrates, truly, what it means to walk together.

"Mequon did not approach this as to what it would do for them. Ann Arbor complicates issues for them. I am thankful to God that they approached this union with the thought, 'What does God want? What will advance the kingdom of God? What will help our LCMS and its future?'

"We all need to approach problems and concerns in the Synod on local, district and national levels with this same godly spirit."

LCMS President Rev. Dr. Matthew C. Harrison calls the collaboration of the two universities — and all it represents — "fantastic."

"First of all, the faculty and staff of CUAA are to be commended for their efforts fighting for years against difficult odds," Harrison told Reporter. "It became clear that Ann Arbor alone could not thrive, despite heroic efforts of the school's supporters.

"CUW has developed tremendous capacity in the past decade. In an act of collegiality and love for the church and the mission of higher education, CUW's leadership stepped into the gap at the request of the Synod, and is now sharing its capacity to grow and improve Concordia, Ann Arbor."

Harrison said the new relationship represents what he believes is "one of the largest and most significant collaborative efforts of districts, the Synod Board of Directors, the Concordia University System staff and many others.

"I've rarely been so thankful and proud of the Missouri Synod," he said.

Posted May 25, 2012