The Rev. Dr. Paul M. Heerboth, a longtime missionary and LCMS World Mission executive, died May 18 in St. Louis at the age of 90.

A funeral service was held May 23 at Salem Lutheran Church in St. Louis.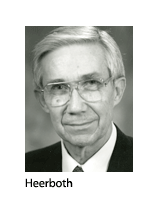 Heerboth was on the staff of the Synod's mission board from 1963 until his retirement in 1995, serving first as assistant executive secretary, then as associate secretary for Personnel Services, and finally as director for administration. He continued to serve Missions part time until 2001 — when he retired, again, at age 80. He celebrated 50 years of ministry in 1998.

A 1948 graduate of Concordia Seminary, St. Louis, Heerboth was one of the Synod's first missionaries to Japan. He served there from 1949 to 1961, starting mission stations and developing Sunday school literature in Japanese. He also taught at the Tokyo Lutheran Center Bible School, which later became a seminary.
When he returned to the United States, he taught languages and religion at St. Paul's College in Concordia, Mo., until joining the LCMS mission board.
Over the years, he contributed as a writer and editor to several publications, including Portals of Prayer, Concordia Theological Monthly, Concordia Historical Institute Quarterly and Missio Apostolica.

Heerboth received an honorary Doctor of Divinity degree in 1976 from Concordia Theological Seminary, then in Springfield, Ill., and last year received the "Distinguished Alumnus Award" from Concordia Seminary, St. Louis.

In 1990, he wrote, under "special honors or distinctions in your life" on an LCMS biographical form, "Yes, the Lord has given me a wonderful, faithful wife, five children and so far eight grandchildren — better than any plaques or pins or citations."
During his 10-plus years of official retirement, Heerboth served as a Stephen Minister at Laclede Groves, the St. Louis-area retirement community where he and his wife lived since 2001. After enduring health challenges in recent years, Heerboth said he frequently asked God why he was still on this earth. "The answer," he said, "is to pray for family, friends and the Church."
"In his quiet and unfailingly polite way, Paul Heerboth worked for and supported change in Missouri Synod missions," Dr. Daniel Mattson, former associate executive director of LCMS World Mission, said at Heerboth's funeral. "His entire ministry was devoted to the mission of the church, always seeking better ways to share the Gospel, first in the field in Japan from 1949 to 1961, and then for 32 years in the administration of the Board for Mission Services which became LCMS World Mission.
"Through personal example he demonstrated that God would guide his people so that through quiet, patient and consistent efforts over time, always trusting God and keeping eyes fixed on His goal, seemingly impossible challenges could be overcome so that the Good News of Jesus could be heard in every corner of the world.
"Those of us who worked with him in the last decades of the 20th century have learned the lessons of the constant endeavor to learn more in order to serve better and the faithfulness and humility in all tasks — great and small — that Paul modeled in his life," Mattson said. "We rejoice in all that God accomplished in and through him. We rejoice in the faith that we share, in the hope of the resurrection in Jesus that gives meaning and purpose to our lives. And Paul would want us to rededicate ourselves to the task that remains unfinished, the task of sharing the Good News of Jesus so that all find forgiveness and life in Him."
Survivors include his wife, Alleen; four sons — Jonathan (Chris) of Colchester, Ill.; David (Bobbye) of St. Louis; Joel (Jill) of Tucson, Ariz.; and Steven of Ballwin, Mo. — a daughter, Ann (Richard) Miller of St. Louis; 11 grandchildren; and three great-grandchildren.

Memorials may be made to Mission Central, 40718 Highway E-16, Mapleton, IA 51034; LCMS World Mission, 1333 S. Kirkwood Road, St. Louis, MO 63122; or Christ Care Fund, Lutheran Senior Services, 1150 Hanley Industrial Court, St. Louis, MO 63144.
Posted May 22, 2012 / Updated May 23, 2012 / Updated May 24, 2012 / Updated May 29, 2012