The Synod's two official periodicals — Reporter and The Lutheran Witness — received a total of seven awards from the Associated Church Press (ACP) for work done in 2011. The awards were presented at the ACP's annual convention,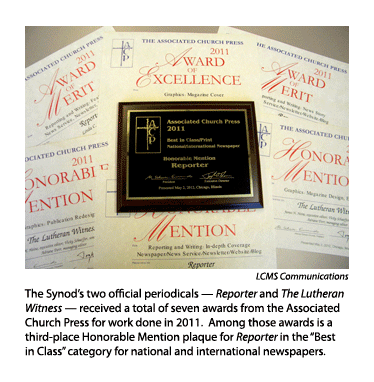 April 30-May 2 in Chicago.
Concordia Journal, a publication of Concordia Seminary, St. Louis, also received two ACP awards for work in 2011.

Reporter was honored among national and international newspapers in the "Best in Class" category with a third-place Honorable Mention.

Three Reporter stories also received awards:
Award of Merit (second place) for "Teacher finds 340-year-old German Bible" (posted online Jan. 20, 2011), by freelance writer Linda C. Hoops of Venice, Fla., in the "Feature Story, News Service/Newsletter/Website/Blog" category.
Award of Merit for "A week after tornado, survivors 'overwhelmed,' need help" (posted online May 5, 2011), by freelancer Kim Plummer Krull of Kirkwood, Mo., in the "News Story, News Service/Newsletter/Website/Blog" category.
Honorable Mention for "Supreme Court hears critical case on religious freedom" (November 2011 issue), by David L. Strand, executive director of LCMS Communications, in the category of "In-Depth Coverage, Newspaper/News Service/Newsletter/Website/Blog."
The Lutheran Witness won a first-place Award of Excellence in the "Magazin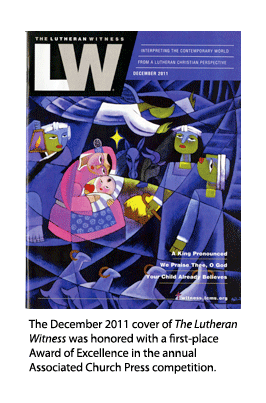 e Cover" category for its December 2011 issue. Named on the award were Vicky Schaeffer, senior designer, and Adriane Dorr, managing editor.

The Lutheran Witness also won two Honorable Mentions:
in "Graphics, Magazine Design, Entire Issue," for September 2011,
and in "Graphics, Publication Redesign." The magazine was redesigned in January 2011.
James H. Heine, executive editor of both publications, said "it's always a thrill" to be recognized in the annual competition. "Our staff is incredibly talented and hard-working, and I commend them for another year of quality work."
Concordia Journal — the theological journal issued quarterly by the faculty of Concordia Seminary, St. Louis — was honored in the "Best in Class: Journal" category with a second-place ACP Award of Merit. Those named on the award were the Rev. Travis J. Scholl, editor; the Rev. Dr. William W. Schumacher, executive editor; seminary President Rev. Dr. Dale A. Meyer, publisher; Melanie Appelbaum, editorial assistant; and Jayna Rollings, graphic designer.
Concordia Journal also won an Honorable Mention in the category of "Theological Reflection: Long Format" for "The Tapestry of Preaching," by the Rev. Dr. David R. Schmitt, in the spring edition.

Founded in 1916, the ACP is the oldest interdenominational religious press association in North America, with a membership of more than 200 publications, websites, news services and individuals.

Judges for the competition included working and retired journalists and journalism professors, editors and graphic designers.

To read more about the Associated Church Press and its annual competition, visit www.theacp.org.
Posted May 5, 2012 / Updated May 8, 2012 / Updated May 21, 2012