Dr. Al H. Senske of St. Louis is providing a Lutheran education viewpoint as a member of the new Commission on Faith-based Schools organized by the American Center for School Choice, San Mateo, Calif.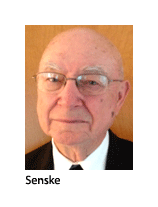 The commission, which met for the first time Sept. 20 in New York, has two immediate tasks: to expand public understanding and appreciation of the role of faith-based schools in American education, especially in low-income communities; and to address the need for expanding publicly funded school choice to increase a family's ability to choose from among a full range of options, including a faith-based school.
Over the coming months the commission will be documenting the characteristics and benefits faith-based schools provide to families and to American education. It plans to release a report and convene a national conference in spring 2013 to communicate its findings.
"It is essential that the right and freedom of parents to choose the best education for their children be recognized and we believe this commission will make an important contribution toward that goal," said Peter H. Hanley, executive director of the American Center for School Choice.
Senske currently serves on the board of directors of Christian Friends of New Americans, a mission agency in St. Louis. He formerly served as director of LCMS World Relief from 1987 to 1994, and held several positions at Concordia Publishing House, St. Louis, from 1981 to 1986.
He spent the previous 30 years in education — as a teacher, principal, professor, coach and LCMS schools executive. His positions included serving as assistant secretary for private education in the U.S. Department of Education, Washington, D.C. (1980-81); secretary of LCMS elementary and secondary schools (1971-80); and assistant and associate professor at Concordia Teachers College (now Concordia University Chicago), River Forest, Ill. (1960-70).
Senske was appointed to the Commission on Faith-based Schools July 25, and told Reporter he's "pleased that Lutherans have been invited to participate in this national faith-based school study, conversation and communication."
The "quality and background" of his fellow commission members, he said, "gives me much hope for success."
The commission's first meeting, held at the headquarters of Agudath Israel of America, "provided an immediate ecumenical atmosphere," Senske said. "I found my fellow commissioners who represent Islamic, Catholic, Christian and other faith-based groups to be excellent representatives of their respective constituencies.
"In addition, pertinent contributions to the discussions were provided by research specialists, lawyers, judges, authors, urban specialists and university professors — all members of the commission."
Senske said he believes the two-fold task of the commission "is right on. This is not an anti-public school movement," he said, and "neither task states that our goal is to increase the enrollments in faith-based schools. That will happen, however, if we are successful at expanding public understanding and appreciation of the schools' roles, especially in low-income communities.
"It will also happen if public funding of school choice is expanded, which I feel is a moral imperative in America."
Posted Oct. 9, 2012