The Rev. Timothy J. Scharr of Aviston, Ill., was elected on the first ballot to his first full three-year term as president of the LCMS Southern Illinois District during the district's Feb. 16-18 convention in O'Fallon, Ill.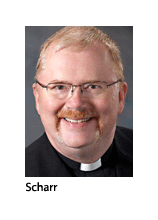 Scharr, 54, had filled the remainder of the term of former district President Rev. Herbert C. Mueller Jr. after Mueller was elected LCMS first vice-president in 2010.

Also elected were:
the Rev. Michael P. Walther of Collinsville, Ill., first vice-president.
the Rev. Bruce E. Keseman of Freeburg, Ill., second vice-president.
the Rev. Dr. George J. Gude of Dorsey, Ill., secretary.
Gary Hemmer of Columbia, Ill., treasurer.
Addressing the convention theme of "Rejoice in Hope," from Rom. 12:12, was essayist Rev. Dr. Wilhelm Weber Jr., bishop of the Lutheran Church in Southern Africa. The Southern Illinois District has had a mission partnership with the South African church body for almost 12 years.

Weber said there is much hope in Africa, in spite of the continent's many challenges, because the Gospel is being shared.

In response to the 2011 passage of the civil-union law in Illinois — which allows same-sex couples to marry and enjoy many of the legal protections granted to heterosexual married couples — Southern Illinois District delegates adopted a resolution that affirms the "God-given form of marriage" between one man and one woman.

The resolution supports "all that God's Word says about marriage, sexual activity and child rearing," and asks the district to "call the people, legislature and governor of Illinois to repentence in this regard and solemnly warn them of the judgment of God." It also encourages Lutheran Child and Family Services of Illinois and other Christian agencies to refrain from certifying couples who are "living in sin" to be foster parents.

The resolution further asks the district secretary to forward the resolution to the Illinois governor and legislature, and to the administrators of social-service agencies, among others.

Two adopted resolutions — to be forwarded as overtures to the national LCMS convention in 2013 — ask:
district, Synod and LCMS seminary officials "to prohibit the use of the Specific Ministry Pastor program for men [who may] be called to congregations that already have a pastor." The action is intended to support the preparation of pastors with "good, strong theological education, with the best training possible," according to Scharr. Since the Specific Ministry Pastor program has reduced residential education requirements, "delegates are concerned that Specific Ministry Pastors may replace traditional M.Div. assistant pastors in multi-staff congregations," he told Reporter.
for the placement of prison-ministry coordinators in all 35 LCMS districts.
Most of the 30-plus resolutions adopted at the convention call for ongoing support for the district's various mission projects, including its prison ministry, Freed in Christ, which helps those released from prison to re-enter society; Unity Lutheran Christian School in East St. Louis; its partnership with the Lutheran Church in Southern Africa; and its campus ministries in Carbondale and Edwardsville, Ill.

Scharr said the three-day convention included many intentional worship and prayer services. "I think this was a really good convention because worship was a vital part of it," he said. "Instead of being a business meeting, it was a church convention with business."
Posted Feb. 22, 2012