By Sarah Schafer

"Tremendous damages everywhere," said the Rev. Glenn F. Merritt, director of LCMS Disaster Response, as he toured the south shore of Staten Island Nov. 3.

Staten Island was devastated by Superstorm Sandy Oct. 29, with reports of more than 20 deaths by Nov. 3 — the most among New York City's boroughs.

No LCMS churches on Staten Island were damaged. However, three member families of St. Matthew's Lutheran Church, two St. John's Lutheran School teachers, an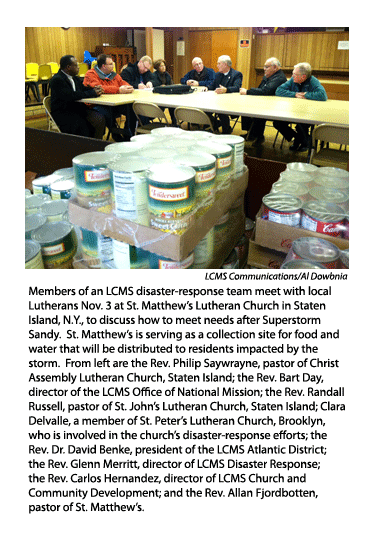 d one school family lost their homes in the storm.

"The Lutheran Church–Missouri Synod has pledged its full support of material, financial and people resources to the LCMS pastors in this region," said Merritt.

He added that people are struggling to get around in the debris; to buy gasoline — with many carrying gas cans and waiting hours in lines up to a half-mile long at gas pumps; and to stay warm. Forecasts for a Nor'easter on Nov. 7 could compound the situation.

Without power, many Staten Island stores cannot accept credit-card payments and banks are running out of cash, according to Merritt. "Frustration is building," he said.

With Merritt on Staten Island Nov. 3 were the Rev. Bart Day, director of the LCMS Office of National Mission; the Rev. Carlos Hernandez, director of LCMS Church and Community Development; and Al Dowbnia, director of Digital Media with LCMS Communications — as they met with LCMS Atlantic District President Rev. Dr. David Benke and Staten Island pastors.

Three Staten Island pastors — the Rev. Philip Saywrayne of Christ Assembly Lutheran Church; the Rev. Randall Russell of St. John's Lutheran Church; and the Rev. Allan Fjordbotten of St. Matthew's Lutheran Church — have not been able to contact all their members, since landlines are down, cellphone service is sporadic and some areas are not accessible. (To watch a video interview with Fjordbotten, click here.)
Staten Island residents were allowed back into their homes Nov. 2 to collect personal items and begin cleanup efforts. Many are staying with relatives or friends and in shelters. Merritt said hotel rooms are at a premium.

Dowbnia commented on the number of local volunteers streaming into the area, particularly young adults who come with shovels and rakes in hand to help with cleanup efforts.

St. John's members gathered cases of water and food, and members of Trinity Evangelical Lutheran Church, Brooklyn, delivered hundreds of grocery bags with food and personal-care items to St. John's members, for distribution in the community. New clothing and shoes donated to St. Matthew's also was given to local residents. Flood-cleanup buckets donated by Beautiful Savior Lutheran Church, Arlington, Texas, also will be distributed by the churches on Staten Island.

Merritt again stressed that financial gifts are needed most at this time because they allow the LCMS to get immediate support to local congregations.

To help those affected by the storm:
make an online gift at https://www.lcms.org/givenow/disaster.
mail checks payable to "The Lutheran Church–Missouri Synod" (with a memo line or note designating "LCMS Disaster Relief") to The Lutheran Church–Missouri Synod, P.O. Box 66861, St. Louis, MO 63166-6861.
call toll-free 888-930-4438 (8:10 a.m. to 4:10 p.m. CST, Monday through Friday).
In addition to Reporter Online, continuing updates about the Synod's response to Superstorm Sandy will be posted on the LCMS website at www.lcms.org, Twitter (www.twitter.com/thelcms), the LCMS Facebook page (www.facebook.com/thelcms) and the Mercy Forever blog (http://mercyforever.lcms.org).

Sarah Schafer is a freelance writer based in Fairfax, Va., and a member of Prince of Peace Lutheran Church, Springfield, Va.

Posted Nov. 3, 2012 / Updated Nov. 7, 2012