By Joe Isenhower Jr.
ORLANDO, Fla. — At its Nov. 15-16 meeting here, the LCMS Board of Directors heard and endorsed plans for strengthening in a number of ways the 10 LCMS colleges and universities that make up the Concordia University System (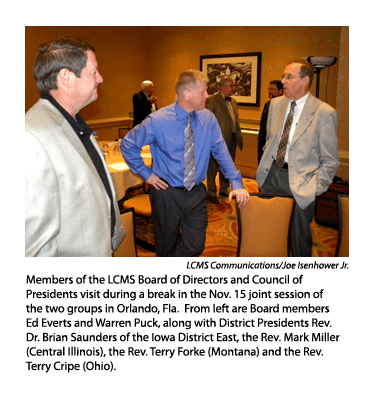 CUS).
CUS Interim President Rev. Dr. Alan Borcherding presented to the Board a plan for CUS reorganization that he called "CUS 2.0." — a plan that would enhance the responsibilities of the CUS board and involve CUS presidents. He said that both those groups are developing the plan, based on needs they recognize.
Borcherding said that the schools' presidents are excited about CUS 2.0 because "they want a more structured way to operate common activities, to learn and plan for the future and to strengthen all [10] institutions." And "they want coordination with the CUS board to work together on important activities."
"Why should you care about CUS 2.0?" he asked the Board. "Well, I think this is an approach to strengthening the institutions. It will strengthen our board's work and I think it will provide more opportunities when an institution gets in trouble. Because if the presidents are working together as a group, I think they will be much more inclined to see how a problem might be solved. The presidents are very eager to continue on this."
Board of Directors members voiced support for the plan, including Synod President Rev. Dr. Matthew C. Harrison, who said it is "addressing the right questions." Harrison also complimented Borcherding for initially proposing the plan.
The Board also decided to join with the CUS board in proposing overtures for this year's LCMS convention for changes to Synod Bylaws that would address the need for members of the CUS board and those schools' boards of regents to be qualified in areas such as theology, education, finance, real estate and other specialties.
Also addressed in LCMS Bylaw proposals is removing a number of details about faculty employment that background information for the overtures describes as a "parallel layer of regulation that serves no useful purpose." The background material also states that certain other Bylaw stipulations concerning policies about "the relationship of faculty members to the Synod [are] appropriate to remain in the [Bylaws]."
The overtures will be submitted to the Office of the President to be included in the Convention Workbook with other overtures for consideration by floor committees that will draft resolutions for the July 20-25 Synod convention in St. Louis.
"Jointly submitting these overtures to the Workbook is a powerful statement of the importance of these matters for the welfare of the Synod and its institutions of higher education," the boards' resolution notes.
'A very unique time'
"We're in a very unique time, as we get our thoughts together after the November election," Harrison said as he began his report during the Board meeting.
He said that "on the one hand, we have positives. In this sense, we have a more diverse country … that re-elects a black president. I think this shows that racism is less a factor in our country. … Those are certainly positives.
"On the downside," Harrison said, "the real challenge is the fact that you have connected with that election a president and an administration that has policies … so inimical to … fundamental convictions of natural law regarding sexuality.
"And also, policy decisions that are really going to be making it more and more difficult for us as Christians and occupiers of Christian institutions to be major players at the table in a range of services."
"I have no illusions about us being able to fundamentally affect culture in America," Harrison continued. "So I think our mode will simply be an aggressive defense — as aggressive as we can mount with our current limitations and challenges. But the good thing is that we do have a lot of friends in these issues."
Harrison reminded Board members of demographic data presented during their meeting in August that shows the LCMS is not planting churches in most of the nation's 100 fastest-growing counties.
He spoke of dramatic drops in the number of young people in the Synod since 1980 — as well as in child baptisms.
"We continue to confirm half or less of the [children] we baptize," he noted.
And, on a more positive note, he shared results of a pan-denominational poll in which Synod youth were at or near the top percentages with responses about the frequency of talking about their faith and their decisions to continue involvement in their home congregations.
Harrison asked Board member Rev. Dr. Victor Belton to share his impressions of the International Conference on Confessional Leadership, Oct. 31-Nov. 2 in Peachtree City, Ga., which gathered confessional Lutheran leaders representing 22 million members. The event was sponsored by the Synod and funded by Thrivent Financial for Lutherans.
'On the world stage'
Belton responded that it "was an unparalleled meeting of the heads of Lutheran churches throughout the world — unparalleled in the history of Lutheranism. It squarely places us as the prime player on the world stage for the advancement of confessional Lutheranism on the planet."
Harrison added that several "key … ecumenical partners" also attended the conference, and that "it was good for the International Lutheran Council partners [there] to look beyond themselves." He pointed out that a number of deaconesses participated in the conference.
"It was a really a great event," Harrison said.
Also reporting to the Board were:
Wyoming District President Rev. Richard Boche, on the work of the Resolution 8-07 Task Force that is studying that resolution adopted by the 2010 Synod convention and will make recommendations in a number of areas the resolution addresses. They include general principles of viability for an LCMS district, the purpose and function of a district and how to improve the districts' efficiency and coordination with others.

The resolution also called for "an implementation plan for any recommended changes that will address [the districts'] staff … and financial operations."

The task force has so far held two meetings.

"At present, nothing has been decided; we're still gathering information," Boche said before Board members took time to fill out a survey for the task force.

The Rev. Randall L. Golter, who was installed Oct. 25 as the first executive director of the LCMS Office of International Mission.

"This is a privilege for a big sinner like me," Golter told the Board. "We as the LCMS have the privilege and opportunity to get on the wagon to be Christ's Church as a prophetic voice worldwide." He said, "we also need to communicate the story of Christ's mission to the church."

Barbara Below, an assistant to Harrison, who provided an update about the 2013 Synod convention.

She said that work is progressing in forming floor committees and that so far, some 150 overtures for convention action had been proposed.
Other resolutions adopted at the November Board meeting resolve to:
receive the unqualified audit of the national Synod for fiscal year 2011-12.
create a legal entity — Concordia International South Africa — to "better support and facilitate the work of [LCMS] mission workers" in Africa, according to the resolution.
increase KFUO Radio's capital budget request (from $371,610 to $669,977) to cover costs associated with that LCMS ministry's office and studio relocation from the campus of Concordia Seminary, St. Louis, to the LCMS International Center. That increase will be offset by a corresponding reduction in this year's operating budget.
Joint BOD/COP session
The Board of Directors was one of several groups to hold meetings before the 2012 Lutheran Church Extension Fund Fall Leadership Conference here Nov. 16-18.
As is the custom for their November meetings in recent years, the Board and the LCMS Council of Presidents (COP) met for a joint session — this time on Nov. 15. COP Chairman Rev. Dr. Larry Stoterau and Board Chairman Rev. Dr. Robert Kuhn co-chaired that session.
On its agenda were presentations by Borcherding; Mark Hofman, executive director of Mission Advancement for the Synod; Chief Administrative Officer Ron Schultz; and Sherri Strand, general [legal] counsel for the Synod, who spoke during an executive session. Wrapping up the two groups' time together was a question-and-answer period.
Borcherding reviewed the CUS board's proposed bylaw recommendations on governance that he later presented to the Board of Directors, gave an update on CUS enrollment and finances, and offered a five-year outlook for the CUS schools.
Hofman described Mission Advancement's operations and provided a status report on those operations.
Schultz spoke about Board of Directors policies — many of which deal with agencies of the Synod, including districts. He pointed out that each district president has received a copy of those policies.
Posted Dec. 19, 2012