By Joe Isenhower Jr.
Missouri Synod leaders were part of a 15-person delegation organized by Lutheran Immigration and Refugee Service (LIRS) — including former refugees — that visited with members of Congress and others in Was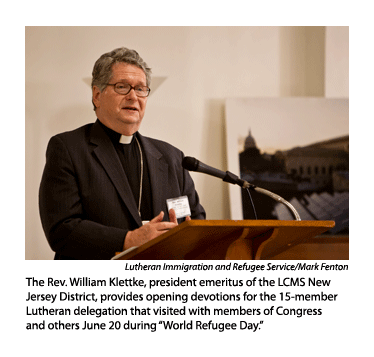 hington, D.C., June 20 to support U.S. refugee resettlement on what is designated annually as "World Refugee Day."
LCMS representatives in the group were LCMS New Jersey District President Emeritus Rev. William Klettke; his wife, Val; and LCMS Office of National Mission Executive Director Rev. Bart Day, whose office works with LCMS congregations and districts in a number of areas, including immigration and refugee matters.
Also part of the World Refugee Day delegation were LIRS staff members and those from two other Lutheran church bodies that LIRS represents with refugee concerns, as well as the former refugees from Afghanistan, South Sudan, Liberia, Vietnam and Iraq.
LIRS — based in Baltimore — welcomes refugees on behalf of the LCMS, the Evangelical Lutheran Church in America and the Latvian Evangelical Lutheran Church in America.
A statement from LIRS notes that "each denomination brings commitment to following God's call to love the sojourner, the experience of being an immigrant church, and the leadership to make ministry with migrants and refugees a priory. Each contributes financially to the mission and is represented on our board of directors."
Eric B. Sigmon, director of advocacy for LIRS, spoke of the delegation's purpose for visiting Capitol Hill June 20. "We're here to ask Congress to be refugee champions," he said. "We're meeting with 38 congressional offices today, and we're grateful to the former refugees who are the heart of this effort."
"This is a very important day that's well worth the trip to be here in Washington," said William Klettke. "Today was a learning experience on the plight of millions of refugees, many of whom have been waiting in refugee camps for years or decades."
Klettke, who was invited by LIRS to be part of the delegation, noted that refugee resettlement "has been very much a part of my ministry, going back over 30 years with resettling a Vietnamese family and working with refugees as district president, not only personally, but through congregations made up of immigrants and refugees from Africa."
Klettke also participated in an LIRS-sponsored 2010 Lutheran leadership immigration summit in the nation's capitol.
"Our experiences in Washington on World Refugee Day this year make it all the more clear to me that LIRS needs the support of our local LCMS congregations," Day told Reporter.
"Congregations and volunteers play a key role in the success of resettling people in our communities," Day added. "I challenge and encourage more LCMS congregations to become supporters of LIRS and the work of welcome."
"What's happening … today reflects American Lutherans' deep immigrant roots and passionate commitment to welcoming newcomers," said LIRS President and CEO Linda Hartke. "From the post-World War II period, when we welcomed tens of thousands of Lutheran refugees to the United States, until now, we've been showing the world our faith in … action by offering hospitality and welcome."
The annual June 20 World Refugee Day — observed worldwide — was established by the United Nations "to honor the courage, strength and determination of
women, men and children who are forced to flee their homes under threat of persecution, conflict and violence," according to an LIRS news release.
June 15 announcement
On June 15, Hartke praised the Obama Administration for announcing that it would halt deportations and grant work permits to undocumented immigrant youth with no criminal record and who meet criteria such as military service or educational achievement.
"Since 2010 we've been calling on the Administration to stop deporting young people who are contributing so much to our communities," Hartke said. "We applaud President Obama and the Administration for today's bold announcement of this urgently needed policy change."
A June 15 LIRS news release explained, "Under the change, the Department of Homeland Security will stop deporting undocumented immigrant youth and allow them to obtain work permits if they arrived in the United States before they turned 16 and are younger than 30, have no criminal record, have been in the United States for at least five consecutive years, graduated from a U.S. high school or hold a GED, or served in the military.
"The young people affected by this policy are know as 'DREAMers' after the DREAM Act," the news release continues. "Although most Republicans voted against the DREAM Act in 2010, Sen. Marco Rubio (R-Fla.), Rep. Davide Rivera (R-Fla.-25), and GOP presidential candidate Mitt Romney recently expressed support for different versions of the DREAM Act. The legislation, which failed in the Senate in late 2010, is aimed at providing DREAMers with a path to U.S. citizenship. It has stalled in limbo for a decade, but some within the GOP have signalled openness to striking a deal that would find a solution acceptable to both sides."
Other news reports about Obama's executive order of the change pointed out that it currently would apply to some 800,000 young people.
For more about LIRS, visit its website at www.lirs.org.
Posted July 5, 2012