By Kim Plummer Krull
Seven months after the Souris River flooded a quarter of Minot, N.D., devastating some 4,100 homes, the great majority of the families affected by the flood still live in FEMA trailers or with friends and relatives, according to the Rev. Paul Krueger, pastor at Our Savior Lutheran Church.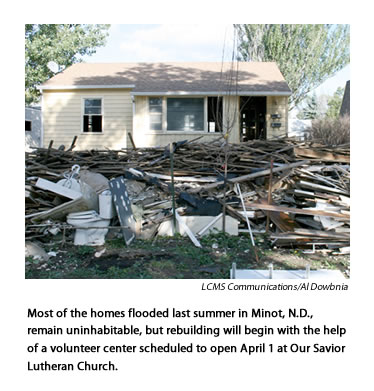 But here's the good news: Rebuilding will begin this spring, with the help of Hope Village, a volunteer center scheduled to open April 1 at Our Savior Lutheran and to accommodate as many as 250 volunteers a day.
Krueger calls the "unified thrust" of faith-based and civic partners behind Hope Village a significant asset in disaster-response efforts.
The approach is significant enough, Krueger noted, that during a regional FEMA conference, it generated an hour-long discussion instead of the 10 minutes allotted to him as a presenter, Krueger said.
"Instead of duplicating services, each partner brings a specialty to this effort in order to maximize our work and stretch as far as possible the limited dollars we have for funding," said Krueger, whose congregation has helped lead recovery in the hard-hit community since the record floods in June.
One such partner is LCMS World Relief and Human Care (WR-HC), whose donors to date have helped make possible a total $474,200 in grants for flood relief and recovery in North Dakota. That total includes a recent $200,000 grant from WR-HC to Our Savior for Hope Village, including the purchase of bunk units to house volunteers.
"While the gravity of the situation in Minot is still somewhat dire, it is no longer overwhelming for the people of Minot. With the help of faith-based organizations like the LCMS and its local congregations, recovery is happening and rebuilding will occur," said the Rev. Glenn F. Merritt, director of LCMS Disaster Response, one of several LCMS ministry leaders who have trekked to North Dakota to assist with flood-recovery efforts.
"Hope Village, with support from LCMS donors and volunteers, will make a significant difference in moving Minot forward into the future," said Merritt, who plans to return to Minot with an LCMS leadership team in early March to provide continuing support.
Another partner lending a hand is Lutheran Disaster Response (LDR) of North Dakota, which is coordinating volunteers and the rebuilding effort, according to Krueger. He spoke by telephone from the Norfolk, Neb., headquarters of Orphan Grain Train, an LCMS Recognized Service Organization (RSO) also supporting Hope Village.
Other denominations collaborating on Hope Village and their areas of expertise, Krueger said, include the following: the United Methodist Committee on Relief, case management; Presbyterian Disaster Assistance, volunteer registration and village management; and Southern Baptist Disaster Relief, village food service.
"Each partner brings a different strength to the table," Krueger said.
The volunteer center is being built on land set aside by Our Savior for the church's expansion. "We're putting that future expansion on hold until these [rebuilding] needs are met," Krueger said.
Volunteers from a variety of denominations are expected to make the village their base. "We're sure to see many different colors of [church-related] T-shirts," Krueger said.
Groups will have the option, if desired, of assisting fellow church member families. LCMS teams who travel to Minot, for example, and want to help LCMS families rebuild will have that opportunity, Krueger said.
Nearly 300 families from three LCMS congregations – Our Savior, St. Mark and St. Paul — and the Dakota Boys and Girls Ranch (an LCMS Recognized Service Organization) are among the thousands whose homes were devastated in the disaster. Most lacked flood insurance because they lived in an area considered invulnerable to flooding.
Many people beyond North Dakota are surprised to learn that FEMA categorized last summer's flood a Level 5 natural disaster, Krueger said, the same rank as the destruction caused by Hurricane Katrina on the Gulf Coast in 2005.
The rebuilding process in Minot is expected to take three years, Krueger said. The primary construction season for volunteers runs April 1 to October 1. To learn more or register as a volunteer, visit the Hope Village website www.hopevillagend.org or the Our Savior Lutheran website www.oslcnow.com.
To make a gift to help WR-HC continue to assist with flood recovery efforts:
Mail checks (noting "Flood Relief" in the memo line) to LCMS World Relief and Human Care, P.O. Box 66861, St. Louis, MO 63166-6861.
Call toll-free 888-930-4438.
Make an online donation at www.lcms.org/disaster/flood.
NOTE: Any funds not needed for this relief effort will be used for other disaster purposes as determined by LCMS World Relief and Human Care. Your gift is tax deductible to the extent permitted by law.
Kim Plummer Krull is a freelance writer and member of St. Paul's Lutheran Church, Des Peres, Mo.
Posted Feb. 8, 2012