The Rev. Gregory K. Williamson, a native of Walters, Minn., was installed Jan. 9 to a three-year term as the Synod's first chief mission officer.

Preaching at the installation service, held in the chapel of the LCMS I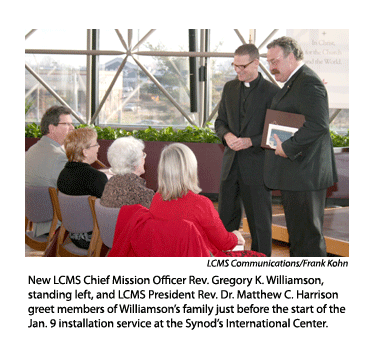 nternational Center in St. Louis, Synod President Rev. Dr. Matthew C. Harrison said "the Lord has a way of providing the right people at the right time."

Just as God prepared Stephen, the first martyr, and the first missionaries to Antioch, Harrison said, Paul was prepared to preach the Gospel among the Gentiles in Jerusalem (Gal. 2:1-10), witnessing to those who were different from the Jews.

As he traveled, Paul "witnessed" the Gospel, collected money to show "mercy" to the poor and enjoyed "fellowship" with others. That "witness, mercy, life together," Harrison said, were "three fantastic foundations" for the early church and continue to be for today's church.

Harrison called "zeal" the "most important" part of being a manager or administrator — as exhibited by the early Christians — and he encouraged Williamson to have zeal "molded by Christ" and "influenced by … colleagues" in his new position as chief mission officer.

The Synod must have "top-quality" leaders, "especially in a day and age where the world is ever more hostile to us, where dollars are tight, we must be absolutely effective and decisive in our leadership, in our work, in witness and mercy and life together," the president said, and the forgiveness of the Gospel must be "at the heart of everyth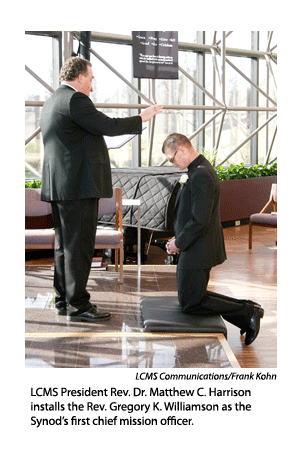 ing [Synod workers] do."

In Williamson, who had studied administration and performed "one of the first baptisms … in the DMZ [Demilitarized Zone] in Korea," he said, "the Lord provides exactly the right person at the right moment."

Addressing Williamson after his installation, Harrison said, "We're so happy to have you — you come with so many gifts and tremendous experience."

Sharing a few words after the service, Williamson introduced his wife, Jackie, and other family members, and told fellow LCMS workers it is "humbling to be supported by this great cloud of witnesses" to the Gospel.

In his new position, Williamson is responsible to the Synod president for the mission, ministry and programmatic functions of the Synod's national office. His duties include serving as the president's liaison to the Synod's corporate entities; working closely with the Synod's chief financial officer and chief administrative officer in carrying out their respective responsibilities; supervising the work of the offices for national and international mission, and the fund development and communications departments; and providing leadership, coordination and oversight for pre-seminary, seminary and post-seminary education and advocacy for pastoral education and health within the Synod.

Williamson formerly served as command chaplain (Colonel) for United Nations Command (UNC), Combined Forces Command (CFC) and United States Forces Korea Command (USFK) at the U.S. Army Garrison-Yongsan, Seoul, where he advised the UNC/CFC/USFK commander on matters of religion, morale, morals and quality of life. He also coordinated policy and activities with Army, Navy and Air Force chaplains — including preparing them prior to overseas deployment — and with sta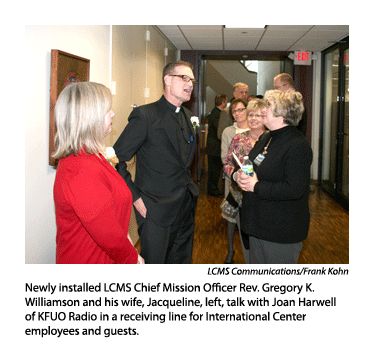 ff and command chaplains at Combatant Commands and the Joint Chiefs of Staff.

Williamson is a 1980 graduate of Concordia College (now University), Portland, Ore., and a 1983 graduate of Concordia Seminary, St. Louis. He was commissioned in the Army in 1982 and served as a reserve chaplain and civilian pastor until receiving a call to active duty in 1986.

He and his wife have two sons.

The new chief mission officer position was mandated by the Synod's 2010 national convention with adoption of Res. 8-08A, which also realigned the church body's national ministries under the two new mission boards.

Williamson was appointed to the position by Harrison after the president's consultation with the Boards for National and International Mission, as well as unanimous concurrence by the LCMS Board of Directors.

To see more photos from Williamson's installation and reception, click here.
Also available are YouTube videos of the installation sermon and comments from Williamson.
Posted Jan. 10, 2012