Resources are now available from LCMS Life Ministry and Lutherans For Life (LFL) to help congregations observe "Life Sunday" on Jan. 19, 2014. The observance marks the 41st anniversary of the U.S. Supreme Court's Jan. 22, 1973, decision that legalized abortion.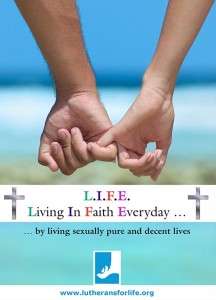 Life Sunday resources also may be used on an alternate date.
Life Ministry is offering free, downloadable resources, including bulletin inserts and psalm and hymn selections. Sermons from LCMS President Rev. Dr. Matthew C. Harrison, LCMS Director of Worship Rev. William Weedon and others also are available. Visit lcms.org/lifesunday to download these resources.
For information on many life issues, such as abortion, post-abortion healing, bioethics, marriage and more, visit lcms.org/lifelibrary.
This year, LFL is offering new bulletin inserts, sermons, a children's message and a Bible study on the theme of "L.I.F.E. — Living in Faith Everyday," based on Titus 2:11–12: "For the grace of God has appeared, bringing salvation for all people, training us to renounce ungodliness and worldly passions, and to live self-controlled, upright and godly lives in the present age."
The items from LFL are available for free or at nominal cost through Concordia Publishing House (cph.org). Some also are available as free downloads at lutheransforlife.org/store. For more information, call LFL at 888-364-LIFE (5433).