By Paula Schlueter Ross
Longtime LCMS missions executive Rev. Dr. Allan Buckman, who's been retired since 2003 but continues to serve part time as chairman of St. Louis-based Christian Friends of New Americans (CFNA), considers CFNA a typical member of the Association of Lutheran Mission Agencies: it has a small staff, it doesn't have a lot of financial support, it hasn't been around all that long — but it's making a big difference in people's lives!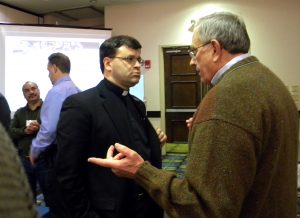 "We feel the Lord is using the ministry," Buckman told Reporter. In the past three years the mission organization that reaches out to immigrants and refugees has baptized and/or confirmed 85 people, either at its Peace Center headquarters or in nearby LCMS congregations. More than 100 have been connected with LCMS congregations, where they continue to worship.
The ministry provides scholarships for children to attend LCMS elementary and high schools, plus free after-school tutoring and English-as-a-second-language classes, home furnishings, health screenings and employment assistance.
And it does all this with one full-time staff member, six part-timers and — thanks to God! — dozens of volunteers.
So its membership in the Association of Lutheran Mission Agencies, or ALMA, is especially valuable, notes Buckman, since the networking organization exists for the purpose of "connecting and equipping Lutheran mission agencies, congregations and individuals to share and demonstrate the Gospel of Jesus Christ."
ALMA's recent annual conference, Jan. 31-Feb. 1 in St. Louis, was "excellent" and "especially helpful" to him in his role as CFNA chairman, said Buckman.
The conference presentations were "very good at facilitating capacity building for agencies like this — whether in leadership development or in fundraising or in board development," he said. "These are critical things for agencies like Christian Friends of New Americans."
More than 50 people representing some three dozen mission agencies — plus about 10 LCMS staff members — attended the ALMA conference.
Over two days, ALMA members from throughout the country took part in devotions and a Bible study, heard plenary and workshop presentations, and learned about — and prayed for — one another's ministries.
In his Bible study titled "God's Mission Whirlwind," the Rev. Dr. Henry Rowold described Christ's crucifixion, Resurrection and "the sending," or mission, as "the whole package" of God's plan for salvation.
And as ALMA members work to implement that plan, Rowold told them "there is no place you can go where the Lord is not already there and will be with you" in your mission.
Examining Acts 1:8, he asked participants to consider "what aspects of Samaria," or farflung nations, "has God connected you to?" And he encouraged them to develop those connections to begin "God's whirlwind mission" of making disciples — who make disciples, who make disciples, who make disciples — and spreading the Gospel.
The Rev. Dr. Mark Larson, director of U.S. ministries for Lutheran Hour Ministries, led a presentation on "Dealing with Tough Questions" non-Christians may ask, such as: Why do you believe in something you can't see? Why are you so judgmental? Where is God when bad things happen?
"The key" when responding to questions like these, Larson said, is "to stop and listen" and "ask for more information" about why the person is asking that question.
"Listen intently and identify with their emotions," he said. "Don't see them as the enemy" but as someone for whom Christ died. "See them with the same eyes of love" as Jesus did.
Tough questions are good, Larson added, because they reveal interest rather than apathy.
In his presentation, "Fishing for Souls," the Rev. Ted Krey, regional director for Latin America and the Caribbean with the Synod's Office of International Mission, identified theological education as one of the chief tasks of LCMS mission work and said the Synod is working in partnership with Latin American seminaries to prepare pastors "for today and tomorrow."
Krey described the next phase of LCMS work there as planting churches with nearby "mercy houses" — such as clinics, schools and orphanages — so that the combined ministry would serve "the whole person," as Jesus did: both physically and spiritually.
He spoke of the need for church-planting "forums" to bring together mission partners who agree on the same task so that they can develop strategic plans under a "memorandum of understanding." Such forums already exist in the Dominican Republic, Peru and Belize; the LCMS hopes to establish additional forums in Spain and Puerto Rico this spring, and possibly in Chile and Honduras in 2014, Krey said.
He asked ALMA members to "consider partnering with us as we go about working in Latin America."
The Rev. Mark Junkans, executive director of LINC Houston, described his personal journey from surfer, to missionary, to pastor, to his current position, which came with the realization that "my church was the city of Houston."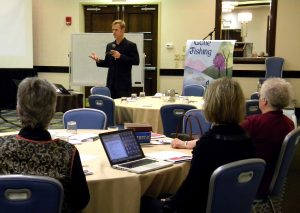 Junkans described LINC's ministry to "reach people not being reached" — especially immigrants and refugees — by finding "new ways to serve the community." Its tasks are threefold: to plant new missions, help meet community needs and identify leaders to train.
LINC, he said, began by helping to provide basic needs such as food, clothing, shelter; then moved to "empowerment" (by assisting with language learning, job training, immigration, finances) so that people could help themselves; and finally development, such as community organization, housing and home repair.
Answering the question "What are the needs?" helped LINC develop its ministry, he said, and it has grown from helping some 400 people in 2002 to 49,500 in 2012 — with the total number of people served exceeding 102,000. In the past 11 years LINC has started 36 congregations with worshipers who speak a total of 15 languages.
Junkans said LINC's "biggest challenge" today is "going beyond Houston" — training "glocal" missional leaders "who think locally and globally at the same time" by ministering to those in their communities as well as in "adopted" foreign fields.
LCMS Chief Mission Officer Rev. Gregory K. Williamson also addressed the conference, noting that, just as it takes a team to build a bridge, the Synod — with its districts, congregations, auxiliaries, Recognized Service Organizations and other entities — must work as a team to "make a difference in the world."
Williamson said the Synod must remain "decidedly Lutheran in teaching and practice" … "faithful to the Scriptures and the confessions of the faith," "credible" in its witness, with "sustainable" programs and "an enduring koinonia" among its membership.
He listed six "mission priorities" in order of importance:
"Plant, sustain and revitalize Lutheran churches.
"Support and sustain theological education."
"Perform human care in proximity to Word-and-Sacrament ministry."
"Collaborate with the Synod's members and partners to enhance mission effectiveness."
"Nurture pastors, missionaries and professional workers to promote spiritual, emotional and physical well-being."
"Enhance elementary and secondary" schools and "youth ministries."
Williamson added that the Synod "must unite in the confession of the faith and boldly declare it to the world in witness, in mercy and in our lives together." Moreover, the church "must bridge to the next generation" by encouraging "our most qualified, talented young men and women to seek" church-work vocations.
In a question-and-answer session, Williamson underscored the need for a "coordination of efforts" between mission agencies, congregations and others who take on mission work and the LCMS Offices of National and International Mission.
That cooperation is not intended, he said, "to thwart the efforts" of mission-minded Lutherans, but rather to achieve "a positive effect" on the mission field. Synod partner churches, he said, sometimes are "frustrated" by those who do mission work that falls outside the indigenous church body's strategic plan.
"Let's do [mission work] together," he said.
Workshops were offered on a number of topics, including conversing with Muslims, reaching men with the Gospel and building an effective board of directors.
In "Major Gift Strategies for a Small Development Office," Dawn M.S. Miller distributed a booklet of tips and told more than two dozen attendees that "there is no way you will get a [major] gift from anyone unless they believe in your mission." And the "number-one reason that people give major gifts," she added, is "because you asked them."
Miller, director of consulting, Fund Development Services, for Zielinski Companies, St. Louis, said the amount of a "major gift" varies from organization to organization, but generally is between $250 to $100,000.
She encouraged participants to write out annual plans for each major-gift donor and take time to cultivate relationships with them — "in many cases," she noted, "it takes 24 to 30 months to cultivate and solicit major gifts successfully." Rarely will there be a major gift if there is no relationship, she said.
In his workshop about ALMA member the "Central American Lutheran Mission Society" (CALMS), Executive Director Rev. Steve Hughey shared "20 key lessons" he has learned from the ministry, which provides housing, medical care and other basic needs — as well as spiritual development — in Belize, Guatemala and Panama.
Hughey's tips included "keeping the balance" between the ministry's spiritual focus and physical focus; developing partnerships with local churches "with a covenant that shares mutual expectations, responsibilities and a common vision"; equipping leaders (both U.S. and Central American); working with mutual respect, while avoiding paternalism and dependency; agreeing on biblical and mission principles and practice; and recognizing that each field is unique, with its own history, "and these realities affect our work."
Patricia Main, co-director — with her husband, the Rev. Will Main — of campus ministry at Haskell Indian Nations University in Lawrence, Kan., shared her experiences with students, many of whom are hurting from the effects of alcoholism, drug abuse or broken families, she said.
Patricia said she shares her faith in a class she teaches for first-year students, serves lunch in the dining hall and helps lead Bible studies and other activities for students at the campus-ministry Light House.
"We see a lot of the traditional [Native American] students coming to Jesus," she said. Many are surprised, she said, asking, "We can be Native and we can be Christian?"
So many of the students "have a story," she added, and "just want somebody to listen to them."
Said Will: "When these young people can share their story in a safe place, transformation takes place."
Rita Nickel, executive director of Lutherans in Medical Missions — which links health professionals to global mission needs — told Reporter she found the ALMA conference, her first, "incredibly valuable for networking and learning what other agencies are doing. It was a true blessing."
Nickel, a former missionary with her husband, the Rev. Tim Nickel, to Eurasia, described ALMA as "a model of the body of Christ. We're all parts of the same body, and when we connect and work together, the entire body functions as it should."
A conference highlight, she said, was "gleaning information from other agencies" and "just listening to everyone share and seeing the diversity — I loved that.
"The desire of so many to partner and work side by side to reach the lost with the Gospel gives me great hope and excitement for the future."
Chagai Lual, a former "lost boy" from Sudan, East Africa, represented the Padang Lutheran Relief Society of New Westminster, British Columbia, Canada, at the ALMA conference. The society sponsors humanitarian projects in healthcare, agriculture and education in South Sudan — one of the poorest areas of the world.
Lual said he found the conference "really inspiring. And the connection [with others] was good, and the people were welcoming, and it opened hearts to many ideas [from] which we will benefit with our mission agency and what we are doing."
He said he would recommend the annual conference because it helps people "get a skill to go and help other people."
Lual told Reporter he plans to attend next year's ALMA conference "with many people" who work with him, "so that they gain [the] hope and experience" to help others.
That comment was echoed by David W. Saving, executive director of the Children's Christian Concern Society and president of the ALMA Board of Directors, who told Reporter he hopes that next year's ALMA conference "will bring even more together under the cross of our Savior."
It is ALMA's mission, he said, "to help bridge the gap between agencies and give them a platform to partner and to build stronger relationships as they continue to serve the Lutheran missions across the globe."
For more information about the Association of Lutheran Mission Agencies, visit alma-online.org.
Updated April 18, 2013 / April 19, 2013 / April 24, 2013