Mark Cannon of St. Louis began serving July 15 as senior vice-president for Finance and Administration with The Lutheran Church—Missouri Synod Foundation.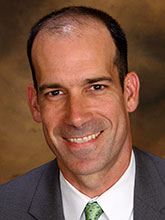 He succeeds Wayne Price, who retired in May after 19 years with the Foundation.
As the Foundation's chief financial officer, Cannon oversees the organization's financial operations and serves as a liaison with external vendors and associates, including legal counsel, auditors, regulatory authorities and investment managers. He also plays a key role in developing and implementing strategies to increase the number of trusts managed by the Foundation and works with its leadership team to oversee human resources, facilities and risk management.
Cannon brings nearly 15 years of banking-industry experience to his new position. He worked for Commerce Bancshares, St. Louis, as vice-president/controller of the Commercial Equipment Finance Group (2008-13) and as senior financial analyst (2002-07). He left Commerce Bank for about a year and a half between those two positions to serve as director of financial reporting for Technisource Inc., a technology consulting firm. Cannon also worked in the banking and finance industry in Nashville, Tenn., before returning to his hometown.
He holds a Bachelor of Arts degree in Economics from Washington University in St. Louis and a Master of Arts degree in Economics from Vanderbilt University, Nashville. He also is a Certified Public Accountant.
"Mark's banking background has prepared him well for this position,'' said LCMS Foundation President David Fiedler. "He comes to us with terrific knowledge and experience, and with a strong history and commitment to the church. We are pleased that Mark has joined the Foundation in this role."
Cannon said he is "excited to join such a strong team."
"The Foundation has grown tremendously over the years, and the future looks very promising," he said. "I look forward to serving the church and supporting its ministry."
Cannon is active in church leadership and serves his home congregation — St. Paul's Lutheran Church, Des Peres, Mo. — as an elder.